Stahlin Non-Metallic Enclosures continues to provide financial support for the Belding High School robotics program. Recently, students from both Belding High School and Belding Middle School competed in the Belding Robotics Tournament in the Redskin Arena at the high school.
Last year, the Belding High School robotics team finished in the top 40 of 200 teams that competed in the VEX Robotics World Competition in Anaheim, CA. The hard work and success continues this year, with all three of the high school team's robots qualified to compete in the State VEX Robotics Tournament at Michigan State University. For more information on the program visit: www.vexrobotics.com

Stahlin Non-Metallic Enclosures has been selected by the Michigan Business & Professional Association as one of the "101 Best and Brightest Places" to work in West Michigan for eleven years in a row.
For more information on Stahlin Non-Metallic Enclosures: www.stahlin.com
Featured Product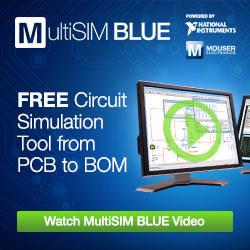 Powered by NI, MultiSIM BLUE Upgrade includes schematic capture, simulation, PCB layout, BOM-to-cart capabilities using only one tool. No more switching between different programs for circuit design. Perform MCU co-simulation. New voltage, current and power probes as well as faster active analysis mode are also available. Plus, it even comes with an expansive database of new components from industry-leading manufacturers. Discover why EDN named MultiSIM BLUE a HOT 100 Product of the Year.