NDIA Ground Robotics Capabilities Conference & Exhibition "A New Horizon: Defining the Use of Robotic & Autonomous Systems and the Gained Benefits" April 7-8, 2015 Arlington, VA
The agenda is now available for the NDIA Ground Robotics Capabilities

Conference & Exhibition! Visit our website at www.ndia.org/meetings/5380 and
click on the 'Agenda' tab to view the current agenda.
Ground robotic and autonomous systems, rapidly adopted during the
Afghanistan and Iraq wars, have enabled the U.S. and its allies to operate
more effectively, efficiently, and safely in a variety of mission profiles,
such as Explosive Ordnance Disposal (EOD), Combat Engineering, and
Reconnaissance. These proven capabilities have secured a path for ground
robotics' future alongside the Warfighter. As the Department of Defense
looks to formulate its Joint Concept for Remote, Robotic and Autonomous
Systems and implement Better Buying Power 3.0, greater focus is being placed
on interoperability and teaming of ground robots with other
robotic/autonomous systems, and with manned systems as well.
The purpose of the Ground Robotics Capabilities Conference & Exhibition is
to provide a forum for Industry and Government stakeholders to engage in an
honest dialogue exploring the potential effectiveness and efficiency gained
through the use of human-machine teaming across all Services of the U.S.
military. Don't miss your chance to register - visit
www.ndia.org/meetings/5380 to register now!
Sponsorship opportunities are still available! By enhancing your brand with
a sponsorship at this premier event, you'll build a stronger perception from
the audience and stand out from the crowd. Visit www.ndia.org/meetings/5380
and click on the 'Sponsorship Information' tab to view the menu of available
options.
An exhibition hall will feature the latest in Ground Robotics technology.
Visit www.ndia.org/exhibits/5380 for more information or to purchase your
booth in real time.
For more information or to register for this event, please visit
www.ndia.org/meetings/5380.
Featured Product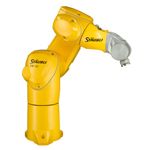 Stäubli offers a complete range of robotic tool changing systems for payloads of 20 kg to 1,530 kg and torsion moments from 30 to 12,500 Nm, designed for use in virtually every industry. The tool changers adapt to customer-specific applications with different modules for media, data, power, etc. The new MPS 130 robotic tool changer is powerful, very robust, and designed for a huge range of applications. It features multiple couplings for air/vacuum connections, and can be equipped with connectors for data and electrical transmission. Very compact dimensions, with a coupled height of only 67 mm, make the MPS 130 the first choice for applications requiring a high number of mating cycles.