Microscan's Dr. Jonathan Ludlow will instruct "Advanced Vision Lighting" on real world techniques for successful illumination in automated inspection settings during Automate in Chicago, March 23 from 11:00 A.M. to 1:00 P.M.
Renton, WA March 05, 2015

Microscan, a global technology leader in barcode, machine vision, and lighting solutions, announces that it will instruct a course as part of the AIA Certified Vision Professional (CVP) training program taking place during the Automate 2015 Conference March 23-27, 2015 at McCormick Place in Chicago, Illinois. Microscan Machine Vision Promoter Dr. Jonathan Ludlow will instruct "Advanced Vision Lighting" covering real world techniques for successful illumination in automated inspection settings on the first day of the Conference, March 23, from 11:00 A.M. to 1:00 P.M.
The AIA Certified Vision Professional (CVP) program allows machine vision professionals to clearly demonstrate their specialized skills in areas related to automated inspection and lighting technology. During the "Advanced Vision Lighting" course, Dr. Ludlow will guide users in designing lighting for complex applications and will also cover topics such as selecting proper illumination wavelengths, dealing with complex part surface geometries, integrating illumination in an application, and controlling back reflections. Attendees of this course will be eligible to complete the CVP-Advanced exam at the end of the training program to receive the CVP-Advanced certification, valid for three years.
Dr. Ludlow, Machine Vision Product Promoter, has instructed machine vision technology courses for AIA for multiple years and has more than 20 years of expertise in machine vision technology. He has authored papers on the application of machine vision in semiconductor packaging and electronic assembly, holds several patents relating to inspection systems, and is a regular speaker at machine vision symposia. Dr. Ludlow has instructed the AIA CVP course on "Advanced Vision Lighting" at a number of trade fairs over the past five years.
At booth 988 from the floor of Automate 2015, Microscan will also demonstrate automation products for complete part tracking, traceability, and quality control. In addition to products from its line of NERLITE Machine Vision Lighting, Microscan will showcase a wide range of simple, powerful automation products that blur the line between barcode reading and machine vision. This technology includes the company's award-winning AutoVISION Machine Vision Suite and turnkey solutions like the PanelScan™ PCB Traceability System and Barcode Verification Kits.
For more information on Automate 2015 and the Automate Conference, or for free registration to the event, visit http://www.automateshow.com.
For more information about Microscan, visit Booth 988 at Automate 2015 or http://www.microscan.com.
About Microscan
Microscan is a global leader in technology for precision data acquisition and control solutions serving a wide range of automation and OEM applications. Founded in 1982, Microscan has a strong history of technology innovation that includes the invention of the first laser diode barcode scanner and the 2D symbology, Data Matrix. Today, Microscan remains a technology leader in automatic identification and machine vision with extensive solutions for ID tracking, traceability, and inspection, ranging from basic barcode reading to complex machine vision inspection, identification, and measurement.
As an ISO 9001:2008 certified company recognized for quality leadership in the U.S., Microscan is known and trusted by customers worldwide as a provider of quality, high precision products. Microscan is a Spectris company.
Featured Product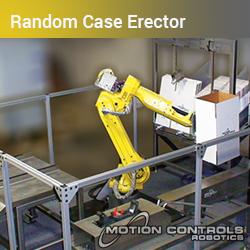 Random Case Erectors are ideal for fulfillment centers and other end-of-line packaging needs. Save money by eliminating changeover downtime. Reduce ergonomic injuries by eliminating repetitive manual tasks. The Random Robotic Case Erector System includes: • FANUC M20iA/20 Robot • Combi gravity case magazine - holds 2 box sizes • Combi bottom flap folder with integrated 3M case sealing head. • Fixed robot base, anchored to the floor • Flexible end of arm tool to pick and erect multiple case sizes to eliminate changeover downtime • System wiring and controls • Color 7.5" touchscreen HMI display for selecting case size • Perimeter guarding with safety interlocks on doors • Programming for Robot, PLC/PMC, HMI and Vision • Complete documentation in electronic format • On-site training and support • Compliance with all applicable robotic safety standards. Alternate safety configuration may be available to allow an operator to changeover a case size in one magazine while the robot continues to work in other magazines. Contact Motion Controls Robotics to learn more about how to implement this system into your current end-of-line operations.