New 1625 nm pulsed laser diode module will be showcased in OSI Laser Diode's booth # 2501 at OFC Technical Exposition, March 24 - 26, 2015, Los Angeles Convention Center, Los Angeles, Calif.
March 12, 2015 - Edison, NJ - OSI Laser Diode, Inc. (LDI), an OSI Systems Company, introduces the SCW 1632-350R, a high-power, pulsed laser diode module for optical testing applications. Housed in a 14-pin butterfly package, the new ridge waveguide (RWG) Fabry-Perot (FP) laser diode is optically coupled to a single-mode fiber (SMF) pigtail and includes a thermoelectric cooler (TEC) and an electrically-isolated temperature-sensing thermistor. Ideal for applications where high peak pulsed optical power is required, the new device is specifically designed for use in optical spectrum analyzers (OSAs) and optical time domain reflectometers (OTDRs). The higher power gives the OTDR manufacturer greater dynamic range capability.

OSI Laser Diode's SCW 1632-350R operates at 1625 nm and features optical power of 350 mW (typically). It joins the family of high-power pulsed laser diode modules, including the previously introduced SCW 1532-500R that operates at 1550 nm and features higher than 500 mW optical power. Both modules are RoHS compliant and feature the industry-standard pin-out packaging that offers excellent pulse drift performance and high stability.
To learn more about LDI's high-power, pulsed laser diode modules, stop by OSI Laser Diode's OFC booth # 2501 at OFC Technical Exposition, March 24 - 26, 2015, Los Angeles Convention Center, Los Angeles, Calif. For additional information, please visit: www.laserdiode.com.
OSI Laser Diode, Inc. (LDI - www.laserdiode.com), founded in 1967, is a global leader in laser diode technology, providing advanced optoelectronic products that serve the military/aerospace, telecom/datacom (short and long haul), commercial, industrial, and medical markets.
Featured Product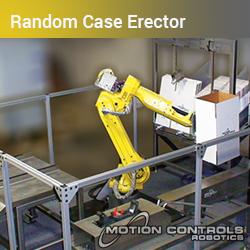 Random Case Erectors are ideal for fulfillment centers and other end-of-line packaging needs. Save money by eliminating changeover downtime. Reduce ergonomic injuries by eliminating repetitive manual tasks. The Random Robotic Case Erector System includes: • FANUC M20iA/20 Robot • Combi gravity case magazine - holds 2 box sizes • Combi bottom flap folder with integrated 3M case sealing head. • Fixed robot base, anchored to the floor • Flexible end of arm tool to pick and erect multiple case sizes to eliminate changeover downtime • System wiring and controls • Color 7.5" touchscreen HMI display for selecting case size • Perimeter guarding with safety interlocks on doors • Programming for Robot, PLC/PMC, HMI and Vision • Complete documentation in electronic format • On-site training and support • Compliance with all applicable robotic safety standards. Alternate safety configuration may be available to allow an operator to changeover a case size in one magazine while the robot continues to work in other magazines. Contact Motion Controls Robotics to learn more about how to implement this system into your current end-of-line operations.