These sensors are ideal for industrial, medical and off-highway vehicle applications
Southborough, MA… Novotechnik, U.S. introduces the Vert-X 2400 Series of compact angle sensors. Diameter of the housing base is 24 mm. These sensors convert rotational angle into a voltage output.

Vert-X 2400 Series sensors are available in single and fully redundant versions. Measurement range is 0 to 360° with repeatability of 0.1°.
Other key Vert-X 2400 Series specifications include 12-bit resolution and linearity of ±1 % of measurement range. The sensors are sealed to IP 67, life is ≥ 20 million movements and MTTF is over 600 years.
These sensors are ideal for industrial, medical and off-highway vehicle applications with an operating temperature range of -40 to +125°C and high immunity to emissions -meeting or exceeding five EN 61000 and two EN 55000 standards.
To learn more contact Novotechnik U.S. at 508-485-2244 or view specific Vert-X 2400 Series information at www.novotechnik.com/vx24
Featured Product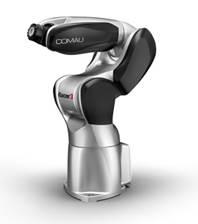 Racer3 is a powerful, high-speed, 6-axis articulated robot featuring a payload of 3kg and a reach of just 630 mm. Built from high-strength aluminum, the newest innovation in Comau robotics is lightweight and can be easily mounted on benches, walls, ceilings or on inclined supports. The third robot within the award-winning Racer family, Racer3 is Comau's response to the growing demand for fast, cost-effective robotic automation within small to medium-sized enterprises and emerging countries. Racer3 is intended for general industry use to increase productivity and reduce overall costs by automating industrial applications. It combines field-proven technology and enhanced dexterity with a keen focus on safety, design and product aesthetics. With a streamlined design and brushed metal exterior, the new powerhouse of a robot combines beauty and speed together with absolute precision and repeatability. Primary applications include assembly, material handling, machine tending, dispensing and pick & place.