odos imaging cordially invites you to visit us at booth 998A at Automate 2015 in McCormick Place, Chicago from 23rd-26th March.
Returning the USA for the first time since The Vision Show in April 2014 (Boston), we are looking forward to once again meeting with the North American vision community. We will be presenting our complete range of real.iZ products: VS-1000 high-resolution time-of-flight system, IL-0900 pulsed laser illumination and our newest product: SE-1000 high speed recording camera.

odos imaging VS-1000, IL-0900 and SE-1000 Our team will be available to discuss your applications and requirements, and offer advice on hardware configuration and setup. We very much look forward to welcoming you onto our booth at Automate 2015.
odos imaging has today launched its new website. We have migrated to a new content system, and a responsive design ensuring the site looks great on all browsers and devices. We welcome comments and feedback through our contact page.
Featured Product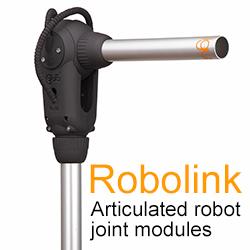 Robolink: Articulated joint modules for robots. igus® now offers a lightweight, maintenance- and corrosion-free range of robot joints for humanoid systems or other automated applications. The carbon-fiber plastic joints can rotate and oscillate freely via four wire ropes. No more expensive milling, cutting or DIY systems. Moving mass is reduced to a minimum. The actuators (engines, pneumatics and hydraulics) and the control module (DP, PC) are kept separate. Contact igus® for more information and free samples.