Variable beam splitters have a inhomogeneous layer distribution on a square substrate.
The components are used to incorporate two beams in an assembly with a

single laser when the laser power of both partial beams were supposed to be
identical following the last optic in the system. This is impossible with
conventional beam splitters because the different components transmit light
unevenly.
The beam splitters are based on a customer request. The designs depend on
the wavelength: If a variable beam splitter is developed for a wavelength of 532
nm, it does not function at another wavelength. For example, for 1064 nm
designs, transmissions from 45% to 55% and 10% to 70% are available, or for
the wavelength 753 nm transmissions from 4% to 20%.
Two standard sizes are offered: 45 mm x 22 mm and 70 mm x 22 mm. Other sizes
are available but the maximum length of the substrates is restricted at 70
mm.
http://www.lasercomponents.com/de-en/product/beam-splitter-cubes/
Featured Product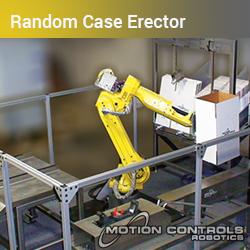 Random Case Erectors are ideal for fulfillment centers and other end-of-line packaging needs. Save money by eliminating changeover downtime. Reduce ergonomic injuries by eliminating repetitive manual tasks. The Random Robotic Case Erector System includes: • FANUC M20iA/20 Robot • Combi gravity case magazine - holds 2 box sizes • Combi bottom flap folder with integrated 3M case sealing head. • Fixed robot base, anchored to the floor • Flexible end of arm tool to pick and erect multiple case sizes to eliminate changeover downtime • System wiring and controls • Color 7.5" touchscreen HMI display for selecting case size • Perimeter guarding with safety interlocks on doors • Programming for Robot, PLC/PMC, HMI and Vision • Complete documentation in electronic format • On-site training and support • Compliance with all applicable robotic safety standards. Alternate safety configuration may be available to allow an operator to changeover a case size in one magazine while the robot continues to work in other magazines. Contact Motion Controls Robotics to learn more about how to implement this system into your current end-of-line operations.