Gstarsoft, the publisher of 2D/3D industrial drawing software, links up with TraceParts to provide its users with access to millions of 3D models certified by industrial suppliers
Saint-Romain, France - 25 March 2015 - TraceParts, one of the world's leading providers of 3D digital content for engineering, and Gstarsoft, one of the leading publishers of low-cost industrial-drawing and building-plan software, have concluded a partnership agreement for publishing CAD data.

With over 400,000 users in the world, Gstarsoft recently launched the new 2015 version of its GstarCAD software, with new file sharing features (cloud) and direct access to the CAD content of the TracePartsOnline.net library.
This access to TraceParts' CAD data will enable designers working in the fields of architecture, mechanics, manufacturing or electrical and HVAC systems to download 2D and 3D models directly from the GstarCAD 2015 software interface.
Offering a simple user interface, Gstarsoft wanted to incorporate innovative solutions in its CAD software, giving design professionals the opportunity to integrate hundreds of millions of CAD models from certified industrial component suppliers in their projects.
When choosing its partner, GstarCAD naturally turned to a leading specialist; since 2001, TraceParts has been providing innovative services for publishing and downloading 3D CAD models, specially designed for industrial component suppliers and CAD software publishers. This new partnership will enable TraceParts to consolidate is technical-data and 3D-model publishing network, which already boasts 9.2 million CAD users around the world.
In particular, this close collaboration gives TraceParts' customers, manufacturers, industrial suppliers and distributors, present on TracePartsOnline.net to significantly expand the publishing scope of their 3D catalogues to GstarCAD's community of CAD users.
You will find further information about TraceParts' 3D-catalogue-publishing network at the following page:
http://www.traceparts.com/publish-your-3d-product-catalogs/deliver-your-cad-models/publish-your-cad-models-onto-the-traceparts-publishing-network/tppn-in-details/
About TraceParts
TraceParts is a world-leading digital engineering 3D content company, offering progressive business solutions through powerful web based products and services. TraceParts brings targeted and cost-effective market penetration to parts vendors, in all sectors of industry.
The TracePartsOnline.net CAD portal is freely available to millions of CAD users worldwide, with hundreds of supplier catalogs and 100 million CAD models and product datasheets suitable for the Design, Purchasing, Manufacturing and Maintenance processes. For more information about TraceParts, please visit www.traceparts.com
Featured Product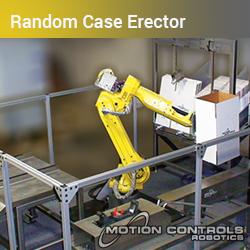 Random Case Erectors are ideal for fulfillment centers and other end-of-line packaging needs. Save money by eliminating changeover downtime. Reduce ergonomic injuries by eliminating repetitive manual tasks. The Random Robotic Case Erector System includes: • FANUC M20iA/20 Robot • Combi gravity case magazine - holds 2 box sizes • Combi bottom flap folder with integrated 3M case sealing head. • Fixed robot base, anchored to the floor • Flexible end of arm tool to pick and erect multiple case sizes to eliminate changeover downtime • System wiring and controls • Color 7.5" touchscreen HMI display for selecting case size • Perimeter guarding with safety interlocks on doors • Programming for Robot, PLC/PMC, HMI and Vision • Complete documentation in electronic format • On-site training and support • Compliance with all applicable robotic safety standards. Alternate safety configuration may be available to allow an operator to changeover a case size in one magazine while the robot continues to work in other magazines. Contact Motion Controls Robotics to learn more about how to implement this system into your current end-of-line operations.