New website features Product Selector Tool
Peabody, MA, March 30, 2015 -Harmonic Drive LLC, a leader in high precision motion control launches a new website for its Quick Connect™ gearheads; www.harmonicdrivegearhead.com The new site features an easy-to-use Product Selector Tool, 360 degree images and detailed product specifications.

Harmonic Planetary® and Harmonic Drive® Quick Connect™ gearheads (HPN, HPG, HPGP, CSF-GH, CSG-GH, HPF and HPG-U1). The new and completely redesigned website offers users a quick and easy way to choose the best Harmonic Drive LLC product for their application. Developed with the design engineer in mind, the new website features a robust product selector tool, PDF and DXF CAD drawings, as well as download-able 3-D solid models. The Product Selector Tool enables the design engineer to quickly filter through Harmonic Drive product specifications to find the right gearhead to connect to their servomotor.
The new website has a clean, uncluttered look and is easy to navigate. Other features that improve the usability of the site are; secure login and ability to save projects, document downloads and search field. Visitors can also find their regional sales contact with an interactive map, or by searching by zip code.
The new website is part of Harmonic Drive LLC's launch of the HPN Harmonic Planetary® gearhead Product Line. A complete redesign of the company's main website is now under development and is expected to launch fall 2015.
About Harmonic Drive LLC
Harmonic Drive, LLC engineers and manufactures precision servo actuators, gearheads and gear component sets. We work closely with both Fortune 500 and companies of all sizes to understand their application requirements and provide a standard or custom-engineered solution to enable the success of their design project. The majority of the products sold by Harmonic Drive, LLC are proudly made at our manufacturing facility in Peabody, Massachusetts. Harmonic Drive Group Companies in, Japan (Harmonic Drive Systems, Inc.) and Germany (Harmonic Drive AG) provide additional products.
With over 50 years of experience, our expert engineering and production teams develop enabling technologies and products to meet the needs of an evolving motion control market. We are very proud of our outstanding company history. Our high-precision, zero-backlash Harmonic Drive® gears and Harmonic Planetary® gears have, and continue to play critical roles in robotics, spaceflight applications, semiconductor manufacturing equipment, factory automation equipment, medical diagnostics and surgical robotics. More information can be found by visiting the company's main website at www.harmonicdrive.net
Featured Product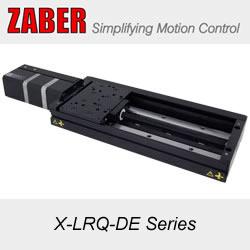 Zaber's new and improved stage (X-BLQ-E) is a closed-loop, belt-driven motorized linear stage with built-in motor encoder and controller. With travel lengths up to 3 m, 10 µm repeatability, and a maximum speed of 2.0 m/s, X-BLQ-E stages are perfect for rapid positioning over large distances. A built-in motor encoder allows closed-loop operation and slip/stall recovery, and an optional indexed knob provides manual control for operation without a computer. Like all Zaber products, the X-BLQ-E Series is designed for easy set-up and operation.