Measuring system LMSLA12 for marking and labeling
(Geisenheim, 04.05.2015) Accurate positioning ... for marking systems

The new measuring system LMS LA12 is a perfectly tuned, preassembled complete system for use in the field of marking and labelling. The system, consiting of an incremental encoder from the WDGI series, a encoder holder with 25 N contact pressure and a nonslip measuring wheel, is used to continuously measure the speed in many different types of marking systems.
The position of the product to be labelled is determined based on this measurement. As a last stage of the packaging process, the product labelling or marking system uses this exact positioning information to mark, among other things, cardboard, packaging, labels, bottles and other materials accurately and in a superior print quality. Codes of any kind, brand logos and graphic designs, batch and lot numbers and sell-by dates are applied using inkjet processes or special inks, for example.
The components of the measuring system are perfectly matched and guarantee utmost precision and a long service life:
- With their IP65/67 protection, the encoders in the WDGI series are designed and adapted for use in harsh industrial environments.
- With a permissible radial load of 220 N on the shaft, the measuring system can be mounted securely without slipping and has a high pretensioning force.
- The specially selected surfaces of the different Wachendorff measuring wheels guarantee non-slip properties in all areas of application - even at very high production speeds.
- The encoder holder is a special development with two slot holes for flexible mounting.
- Exceptionally high repeat accuracy combined with a very high resolution of the WDGI encoder of up to 25,000 PPR (0.008 mm/pulse) guarantees an accurate marking position.
More information at: www.wachendorff-automation.com/
Featured Product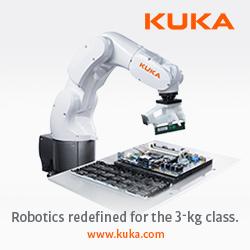 Great advances often start with small steps - in manufacturing cells measuring only 600 × 600 mm. Here, the KR 3 AGILUS is in its element. Particularly in the case of small parts and products which must be produced in a minimum of space. KUKA expertise, concentrated into the smallest of spaces, is setting new standards for the 3-kg class. The lightweight robot masters various tasks with agility, dynamism and maximum precision, leading to high flexibility in production - even when it comes to extremely narrow spaces.