HYCOPTER will be on display starting today at booth 401 at the May 4-7 AUVSI trade show in Atlanta.
ATLANTA--Singaporean company Horizon Unmanned Systems (HUS) unveils HYCOPTER, the world's first hydrogen fuel cell powered multi-rotor UAV. HYCOPTER is being readied for a record flight endurance of 4 hours, or around 8 to 10 times the average flight duration of equivalent systems today.

Unlike any other rotorcraft, HYCOPTER makes use of its frame structure to store energy in the form of hydrogen instead of air, eliminating energy storage weight. With less lift power required, HYCOPTER's ultra-light fuel cell turns the hydrogen in its frame into electricity to power its rotors.
With HUS' breakthrough technology, today's 20-30 minute multi-rotor missions shift to a new paradigm with flights lasting several hours at a time. Aerial survey jobs will become materially cheaper/faster and drone delivery over longer distances, more feasible.
HYCOPTER's special fuel cell was designed by sister company Horizon Energy Systems (HES), which recently announced a new 700Wh/kg solid hydrogen storage system. Newly formed Horizon Unmanned Systems brings together years of knowledge in energy storage optimization, composites, as well as a new breed of autonomous navigation technologies, to show the way forward on innovation in mini-electric UAVs.
"By removing the design silos that typically separate the energy storage component from UAV frame development - we opened up a whole new category in the drone market, in-between battery and combustion engine systems," said CEO Taras Wankewycz. "HYCOPTER is the first result of our efforts and we intend to demonstrate many more platform innovations in the coming months."
HYCOPTER will be on display starting today at booth 401 at the May 4-7 AUVSI trade show in Atlanta.
About Horizon Unmanned Systems www.hus.sg
Featured Product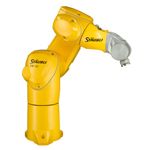 TX2 series of robots: the next generation of fast and precise 6-axis robots. This new robot range is redefining performance with the optimum balance of speed, rigidity, size and envelope. Those pioneer robots can be used in all areas, including sensitive and restrictive environments thanks to their unique features. Known worldwide for the quality of our design and innovation for more than a century, the Stäubli Group has brought its renowned engineering expertise and technological ingenuity to the forefront of robotics. Since 1982, we have built a highly regarded robotics business, and more significantly, transformed the way thousands of manufacturing operations perform. Today Stäubli Robotics is a leading player in robotics around the world, consistently delivering engineering as effective and reliable as our service and support.