maxon presents new High Torque DC brushless motors
For applications demanding very high torque, drive specialist maxon motor is now launching its EC-i 40 DC brushless motor in a High Torque version. The iron-core internal rotor drive is available with a diameter of 40 mm and delivers up to 234 mNm of torque.

When it comes to powerful movements, maxon delivers with its EC-i 40 High Torque series of DC motors. The Swiss drive specialist presents three powerful iron-core internal rotor drives. The drives have a diameter of 40 mm and are equipped with an innovative rotor. They feature high dynamics, a low cogging torque, and extremely high output torque. The strongest motor in this series offers a maximum nominal torque of 234 mNm and is 56 millimeters in length. It exceeds the performance of its precursor model by up to 70 percent.
Especially suitable for robotics
The three new brushless DC motors are cost-effective and ideally suited for applications in robotics, prosthetics, and industrial automation. The compact design offers a great solution in applications with extreme space constraints. When needed, the EC-i 40 High Torque motors can be combined with maxon gearheads, servo controllers, or position controllers. The EC-i 40 series is easily configured and available in our online shop. Shop.maxonmotor.com
Additional information and technical data is available by contacting maxon at info@maxonmotorusa.com. For more on maxon, visit www.maxonmotorusa.com
Featured Product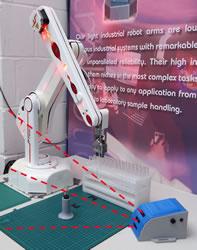 The 6-axis version of the R17HS high speed variant of the R17 robot is now available. As is our policy the 6th axis is an optional bolt-on module. At the same time we have made it even faster and new software eliminates shake and greatly improves repeatability as this video shows. Please see https://www.youtube.com/watch?v=3wG0MeiJ-yE. The video would seem to imply a repeatability of 0.01mm but we are sticking with 0.2mm in the spec. The motor specialist was able to tune the motors from the other side of the pond. My first reaction when we put power on and entered the first commands was to jump back in amazement (and maybe an expletive). Tip speed is now 3m/s; that's 3 times as fast as its nearest competitor yet costs half the price. I love it when a plan comes together.