Slimmer machine profile has higher payload capacity, improved repeatability and easier access for maintenance with new linear motion technology.
ANN ARBOR, MICHIGAN. Now available: "New TrackMotion Overhead (TMO) Modules," a Güdel technology report that examines advances in linear motion technology for industrial robots. Design for maintainability is emphasized in this report along with specific details on performance improvements and real-world applications.

Download the report free at : http://gudel.lead-central.com/57
"This tech paper is for systems integrators, line builders and end users in welding, painting, palletizing, material handling and machine tending applications," said Joe Campbell, Vice President, Güdel. "If you have not looked at TrackMotion lately, now is the time to download this paper and explore what's new."
Carriage design has been improved to handle larger loads with stiff, welded steel frames that take less space. Only Güdel mills pockets in the Y-beam to reduce strain on anchors that hold the rails. With all the improvements and more rigid design, speeds reach up to 8 m/s with a positional repeatability of ± 0.02 mm, and an operating capacity of more than 100,000 km over its life cycle.
"Whether it is welding or tending from above, painting from the side, or palletizing heavy containers, the TMO gives your robot better reach, more stability and easy maintenance for a long life," said Campbell.
Tight spaces and heavy parts are common challenges for machine tending. Design for maintainability is crucial for uptime. Help is available from Güdel. Download the white paper and follow-up with Güdel application engineers about TrackMotion configuration, service and spare parts. Contact North American headquarters at 734-214-0000 or online at www.gudel.com/us.
About Güdel, Inc.
Güdel Inc. is the US subsidiary of Güdel Group, a global manufacturer of robotic automation products, systems and services. Güdel supplies linear motion modules, robot track motion units, gantry robots and components to OEM's, systems integrators and machine builders serving the automotive, aerospace, logistics, heavy industrial and power generation industries. Güdel Inc. is located in Ann Arbor, Michigan in a dedicated 45,000 square foot facility, providing North American customers with engineering, design, production, and, customer service support.
Güdel Group was founded in 1954. Headquartered in Langenthal, Switzerland, today Güdel operates in more than 20 locations worldwide.
Featured Product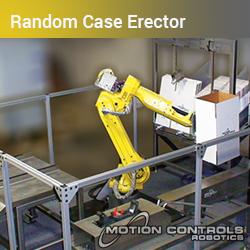 Random Case Erectors are ideal for fulfillment centers and other end-of-line packaging needs. Save money by eliminating changeover downtime. Reduce ergonomic injuries by eliminating repetitive manual tasks. The Random Robotic Case Erector System includes: • FANUC M20iA/20 Robot • Combi gravity case magazine - holds 2 box sizes • Combi bottom flap folder with integrated 3M case sealing head. • Fixed robot base, anchored to the floor • Flexible end of arm tool to pick and erect multiple case sizes to eliminate changeover downtime • System wiring and controls • Color 7.5" touchscreen HMI display for selecting case size • Perimeter guarding with safety interlocks on doors • Programming for Robot, PLC/PMC, HMI and Vision • Complete documentation in electronic format • On-site training and support • Compliance with all applicable robotic safety standards. Alternate safety configuration may be available to allow an operator to changeover a case size in one magazine while the robot continues to work in other magazines. Contact Motion Controls Robotics to learn more about how to implement this system into your current end-of-line operations.