New UL 3D printing facility will offer advanced training, validation programs, advisory services and research
SINGAPORE, May 20, 2015 -- UL (Underwriters Laboratories), a global safety science organization, will open a Global Additive Manufacturing Center of Excellence in Singapore. Additive manufacturing (AM), also commonly known as 3D printing, is defined as the process of joining materials to make objects from three-dimensional model data, usually layer upon layer, as opposed to subtractive manufacturing methods. With an investment of S$8million, this facility will be the first-of-its-kind service offering for both UL and the additive manufacturing (AM) industry.

The new center, supported by the Singapore Economic Development Board (EDB), will focus on advanced training, material and process validation programs, advisory services, and research to support both the local and global AM industry. This project is driven by UL's vision that AM will be the catalyst for global transformation in manufacturing. Through R&D collaborations with local research institutes and industry partners such as the Singapore Centre for 3D Printing and the Advanced Remanufacturing and Technology Centre, UL aims to help create a vibrant AM industry in Singapore and the region.
UL's Global Additive Manufacturing Center of Excellence will address critical gaps in the industry through four key areas. First, it will provide advanced training curriculum to speed up adoption and readiness of a strong AM workforce. Next, the center's validation programs will address AM material and process qualification. Third, the center's advisory services will provide best practices on AM fast to production and AM part acceptance. Lastly, research will be conducted at the center to inform standards development.
"UL's Global Additive Manufacturing Center of Excellence will play a catalytic role in helping our industrial companies strengthen their manufacturing competitiveness. This global center is also aligned with Singapore's vision to be the advanced manufacturing hub of Asia that drives the development of disruptive technologies such as Additive Manufacturing and robotics," said Mr. Lim Kok Kiang, Assistant Managing Director of EDB. "We are confident this new investment will add to the vibrancy of the Testing, Inspection and Certification (TIC) sector in Singapore."
Over the next several years, the facility's four technical service areas will support and expand Singapore's already well-established 3D printing infrastructure. The center is expected to employ 10 additive manufacturing technical experts.
"We are excited to help build the Singapore additive manufacturing ecosystem by contributing advanced training, validation programs, advisory services and research," said Ms. Simin Zhou, vice president of Digital Manufacturing Technologies at UL. "We anticipate this site will be the first step of several as we continue to expand into other 3D printing markets, bringing knowledge and best practices."
About UL 3D Printing
UL 3D Printing is a trusted and reliable partner to 3D printing equipment and material manufacturers, retailers, and commercial and industrial companies. UL, with more than 120 years of experience in safety science, is collaborating with the emerging 3D printing industry to advance education and training, close the knowledge transfer gap, enhance and simplify compliance, and interact with regulators on future issues. UL has a rich history as an independent organization with deep expertise in standards, compliance, testing, certification, manufacturing processes and engineering. For more information, visit http://www.UL.com/3DP.
About UL
UL is a premier global independent safety science company that has championed progress for more than 120 years. Its nearly 11,000 professionals are guided by the UL mission to promote safe working and living environments for all people. UL uses research and standards to continually advance and meet ever-evolving safety needs. We partner with businesses, manufacturers, trade associations and international regulatory authorities to bring solutions to a more complex global supply chain. For more information about our certification, testing, inspection, advisory and education services, visit http://www.UL.com.
Featured Product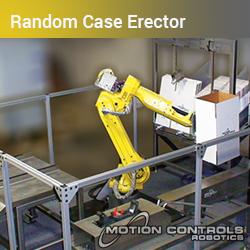 Random Case Erectors are ideal for fulfillment centers and other end-of-line packaging needs. Save money by eliminating changeover downtime. Reduce ergonomic injuries by eliminating repetitive manual tasks. The Random Robotic Case Erector System includes: • FANUC M20iA/20 Robot • Combi gravity case magazine - holds 2 box sizes • Combi bottom flap folder with integrated 3M case sealing head. • Fixed robot base, anchored to the floor • Flexible end of arm tool to pick and erect multiple case sizes to eliminate changeover downtime • System wiring and controls • Color 7.5" touchscreen HMI display for selecting case size • Perimeter guarding with safety interlocks on doors • Programming for Robot, PLC/PMC, HMI and Vision • Complete documentation in electronic format • On-site training and support • Compliance with all applicable robotic safety standards. Alternate safety configuration may be available to allow an operator to changeover a case size in one magazine while the robot continues to work in other magazines. Contact Motion Controls Robotics to learn more about how to implement this system into your current end-of-line operations.