Leading-Edge System Supports up to 32 FPGAs that Can Be Shared Among Multiple Users
SAN JOSE, Calif., May 26, 2015 -- S2C, Inc., a leading provider of FPGA-based rapid prototyping solutions, introduces the Prodigy Cloud Cube, an enterprise-class, FPGA-based prototyping system. Cloud Cube can hold up to 32 FPGAs with a capacity of up to 1.4 billion gates in a single chassis that provides power, cooling, and remote control capabilities. The Cloud Cube system works with the entire Prodigy Complete Prototyping Platform, including: Prodigy Player Pro for partitioning, Prodigy ProtoBridge for linking FPGA prototypes to system-level simulation, and S2C's library of 80+ Prodigy Prototype Ready daughter cards.

"Our Prodigy Cloud Cube system allows engineering teams to take a huge leap forward in prototyping their largest and most ambitious designs," commented Toshio Nakama, CEO of S2C, Inc. "This advanced technology offers the freedom and flexibility to simultaneously manage a large group of geographically dispersed developers utilizing different Prodigy Logic Modules. The result is a dramatic cost savings and greatly accelerated time-to-market."
Prodigy Cloud Cube
Cloud Cube provides unprecedented capacity and scalability with support of up to 32 FPGAs using a combination of Quad, Dual, or Single Prodigy Logic Modules. 16 engineers can simultaneously use any of the Logic Modules in a Cloud Cube with remote access through Ethernet. Different designs or multiple instances of the same design can run concurrently in a Cloud Cube. This powerful chassis system features:
* Auto recognition of Prodigy Logic Modules
* Auto detection of interconnection/cable setup between Logic Modules in a Cloud Cube
* Auto detection of daughter cards installed on Logic Modules
* 6 global clock sources to all Logic Modules with less than 200ps skew
* Power On/Off/Recycle of individual Logic Modules
* Unique tray design for easily mounting Logic Modules & daughter cards
* Transparent and removable windows for easy access and monitoring
* Flexible cable connections between slots on both sides
* Access to each Logic Module directly or through a network switch
* Runtime software for controlling and monitoring the Cloud Cube
* Self-tests to quickly isolate design problems from hardware or connection issues
"The addition of the Cloud Cube to our Prodigy Prototyping Platform helps fulfill our commitment to providing designers with a complete prototyping platform," added Toshio Nakama. "We'll be extending this platform to include powerful cloud-based management software and multi-FPGA debug capabilities in the near future."
Prodigy Cloud Cube can be seen in action in the S2C booth #3108 at the 2015 Design Automation Conference (DAC) at Moscone Center in San Francisco from June 8-10.
Availability
Prodigy Cloud Cube is available now. Contact your local sales representative for pricing.
About S2C
Founded and headquartered in San Jose, California, S2C has been successfully delivering rapid SoC prototyping solutions since 2003. S2C provides:
* Rapid FPGA-based prototyping hardware and automation software
* Prototype Ready IP, interfaces and platforms
* System-level design verification and acceleration tools
With over 200 customers, S2C's focus is on SoC/ASIC development to reduce the SoC design cycle. Our highly qualified engineering team and customer-centric sales force understands our users' SoC development needs. S2C systems have been deployed by leaders in consumer electronics, communications, computing, image processing, data storage, research, defense, education, automotive, medical, design services, and silicon IP. S2C is headquartered in San Jose, CA with offices and distributors around the globe including the UK, Israel, China, Taiwan, Korea, and Japan. For more information, visit www.s2cinc.com.
Featured Product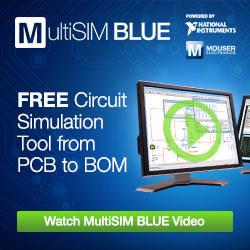 Powered by NI, MultiSIM BLUE Upgrade includes schematic capture, simulation, PCB layout, BOM-to-cart capabilities using only one tool. No more switching between different programs for circuit design. Perform MCU co-simulation. New voltage, current and power probes as well as faster active analysis mode are also available. Plus, it even comes with an expansive database of new components from industry-leading manufacturers. Discover why EDN named MultiSIM BLUE a HOT 100 Product of the Year.