Adept plans to use the net proceeds of the offering for working capital and general corporate purposes.
PLEASANTON, Calif., -- Adept Technology, Inc. (Nasdaq:ADEP), a leading provider of intelligent robots, autonomous mobile solutions and services, has today announced that it has agreed to sell 1,391,304 shares of its common stock at a price of $5.75 per share, for gross proceeds of $8 million. The shares were offered and are expected to be sold to existing shareholders and institutional investors in a registered direct offering conducted without an underwriter or placement agent. The net proceeds from the offering, after deducting estimated offering expenses, will be approximately $7.92 million. The offering is expected to close on or about June 5, 2015.

Adept plans to use the net proceeds of the offering for working capital and general corporate purposes. The securities described above are being offered pursuant to a shelf registration statement (File No. 333-204105), which was declared effective by the United States Securities and Exchange Commission ("SEC") on May 21, 2015. A prospectus supplement relating to the registered direct offering will be filed by the Company with the SEC. When filed with the SEC, copies of the prospectus supplement and the accompanying base prospectus relating to this offering may be obtained at the SEC's website at www.sec.gov or from Adept Technology, Inc., 5960 Inglewood Drive, Pleasanton, CA 94588, Attention: Investor Relations.
This press release shall not constitute an offer to sell or the solicitation of an offer to buy any securities of the Company in the registered direct offering. There shall not be any offer, solicitation of an offer to buy, or sale of the securities in any state or jurisdiction in which such offer, solicitation or sale would be unlawful prior to registration or qualification under the securities laws of any such state or jurisdiction. Any registered direct offering will be made only by means of a prospectus, including a prospectus supplement, forming a part of the effective registration statement.
About Adept Technology, Inc.
Adept is a global, leading provider of intelligent robots, autonomous mobile robot solutions, and services that enable customers to achieve precision, speed, quality and productivity in their assembly, handling, packaging, testing, and logistical processes. With a comprehensive portfolio of high-performance motion controllers, application development software, vision-guidance technology and high-reliability robot mechanisms with autonomous capabilities, Adept provides specialized, cost-effective robotics systems and services to high-growth markets including medical, electronics, food and semiconductor; as well as to traditional industrial markets including machine tool automation and automotive components.
Featured Product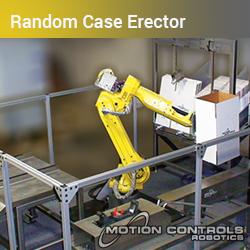 Random Case Erectors are ideal for fulfillment centers and other end-of-line packaging needs. Save money by eliminating changeover downtime. Reduce ergonomic injuries by eliminating repetitive manual tasks. The Random Robotic Case Erector System includes: • FANUC M20iA/20 Robot • Combi gravity case magazine - holds 2 box sizes • Combi bottom flap folder with integrated 3M case sealing head. • Fixed robot base, anchored to the floor • Flexible end of arm tool to pick and erect multiple case sizes to eliminate changeover downtime • System wiring and controls • Color 7.5" touchscreen HMI display for selecting case size • Perimeter guarding with safety interlocks on doors • Programming for Robot, PLC/PMC, HMI and Vision • Complete documentation in electronic format • On-site training and support • Compliance with all applicable robotic safety standards. Alternate safety configuration may be available to allow an operator to changeover a case size in one magazine while the robot continues to work in other magazines. Contact Motion Controls Robotics to learn more about how to implement this system into your current end-of-line operations.