The big advantage of the proFPGA concept is its modularity.
SAN FRANCISCO--PRO DESIGN, veteran in the E²MS and EDA industry, who announced three months ago as first vendor worldwide a Xilinx Virtex UltraScale XCVU440 FPGA Prototyping solution will launch and demonstrate today the complete proFPGA product family consisting of the proFPGA UNO, DUO and QUAD system, based on the latest FPGA technology at the Design Automation Conference (DAC) in San Francisco.

The fully verified and tested systems are the next generation of PRO DESIGNs modular and scalable high performance multi FPGA Prototyping solutions. Scalable from 1 up to 4 pluggable Xilinx Virtex UltraScale XCVU440 based FPGA modules the QUAD system offers a capacity of up to 120 M ASIC gates, which is nearly a factor of 2.5 more compared to the previous Virtex® 7 based generation. Up to five proFPGA QUAD systems with overall 20 FPGA modules can be easily connected together to increase the capacity up to 600 M ASIC gates.
The big advantage of the proFPGA concept is its modularity. The user can for example use the UNO system for IP or sub designs development and can reuse the FPGA modules for complete SoC and ASIC prototyping by simply plugging the same proFPGA Virtex 7 or UltraScale FPGA modules on a DUO or QUAD motherboard. This innovative technology and methodology offers maximum reusability and highest return on invest, because the new proFPGA VUS 440 product family is fully compatible (up and down) to the previous proFPGA generation. That means all proFPGA motherboards, FPGA modules, daughter cards and accessories can be used in combination with the new proFPGA XCVU440 FPGA modules. Further it allows the customer to mix and match the new Xilinx Virtex UltraScale FPGA technology with the previous Virtex 7 and Zynq™ technology in one system.
The system comes with the proFPGA Builder software, which provides an extensive set of features, like advanced clock management, integrated self- and performance test, automatic board detection and I/O voltage programming, system scan- and safety mechanism, and quick remote system configuration and monitoring through USB, Ethernet or PCIe, which simplifies the usage of the proFPGA system tremendously.
Availability
The proFPGA UNO, DUO and QUAD VUS 440 systems are available for early adopter customers now. The general availability will be in Q4 2015.
Demonstration
PRO DESIGN will demonstrate the proFPGA VUS 440 systems at the DAC show in San Francisco, California at booth #2923, June 8 - 10, 2015.
For more information please visit: www.proFPGA.com
About proFPGA
The proFPGA product family is a complete, scalable, and modular multi FPGA Prototyping solution, which fulfills highest needs in the area of ASIC and IP Prototyping and pre-silicon software development. The proFPGA product series consists of different types of motherboards, various Xilinx Virtex UltraScale, Virtex 7 and Zynq based FPGA Modules, a set of interconnection boards/cables, and a large range of daughter boards like DDR3/4 memory boards or high speed interface boards (PCIe, USB 3.0, Gigabit Ethernet, SATA, DVI, etc.). It addresses customers who need a scalable and most flexible high performance FPGA based Prototyping solution for early software development and IP/ASIC verification. The innovative system concept and technology offer best in class reusability for several projects, which guarantees the best return on invest.
About PRO DESIGN
The privately held company was founded in 1982 and has around 85 employees, with various facilities in Germany, France and USA. PRO DESIGN has more than 33 years of experience in the EDA market and as provider in the E²MS market. It has built extensive knowledge in the areas of FPGA board development, electronic engineering, FPGA design, high performance PCB design, construction, production, assembly and testing.
For more information about PRO DESIGN please visit: www.prodesign-europe.com
Featured Product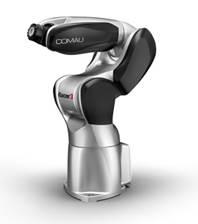 Racer3 is a powerful, high-speed, 6-axis articulated robot featuring a payload of 3kg and a reach of just 630 mm. Built from high-strength aluminum, the newest innovation in Comau robotics is lightweight and can be easily mounted on benches, walls, ceilings or on inclined supports. The third robot within the award-winning Racer family, Racer3 is Comau's response to the growing demand for fast, cost-effective robotic automation within small to medium-sized enterprises and emerging countries. Racer3 is intended for general industry use to increase productivity and reduce overall costs by automating industrial applications. It combines field-proven technology and enhanced dexterity with a keen focus on safety, design and product aesthetics. With a streamlined design and brushed metal exterior, the new powerhouse of a robot combines beauty and speed together with absolute precision and repeatability. Primary applications include assembly, material handling, machine tending, dispensing and pick & place.