First edition of 'UAE AI & Robotics Award for Good' open to individuals, teams, universities and companies from around the world
A US$ 1 million award, announced by the UAE to find innovative solutions in civilian application of robotics and artificial intelligence (AI), will start accepting entries for the award from June 7, 2015. This is the first edition of the 'UAE AI & Robotics Award for Good', and it is open to individuals, teams, universities and companies from around the world.

According to the Organising Committee of the award, the 'UAE AI & Robotics Award for Good' aims to encourage research and development in artificial intelligence and robotics to meet challenges in three key areas: health, education and social services. While the winner in the International Competition of the award will take home US$ 1 million in prize money, the award also features a National Competition offering AED 1 million to the winner. The winners will be honoured at a special ceremony in February 2016 ahead of the fourth Government Summit in Dubai.
Submissions for the Award will be received until November 1, 2015, through the Award website (http://www.roboticsforgood.ae). The proposals will be reviewed by a panel of global experts following which 10 applicants from each category in the International and National competitions will be selected for the semi-final round which will be announced on November 22, 2015.
The semi-finalists will be brought to Dubai to give a live demonstration of their working prototype in front of the panel of judges, which includes high-profile experts and specialists in artificial intelligence and robots technologies. The members of the panel of judges will be announced at a later date. In the final stage, the applicants will demonstrate their working prototype, offering a genuine service or solution to a real human need.
Applicants are required to suggest new ways of improving an existing service using robotics and artificial intelligence, or offer new services that could be implemented through these technologies. In addition, the projects should be semi- or fully autonomous and use the most advanced civilian technology available. They should also be safe and economical.
The 'UAE AI & Robotics Award for Good' was launched by His Highness Sheikh Hamdan bin Mohammed bin Rashid Al Maktoum, Crown Prince of Dubai, during the third Government Summit in February 2015, as one of the initiatives of International Council on Artificial Intelligence and Robotics, which was formed in collaboration with the World Economic Forum during Global Agenda Council hosted by the UAE Government last year.
For more information about of 'UAE AI & Robotics Award for Good', please visit: http://www.roboticsforgood.ae
Featured Product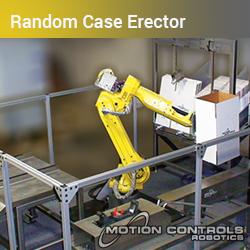 Random Case Erectors are ideal for fulfillment centers and other end-of-line packaging needs. Save money by eliminating changeover downtime. Reduce ergonomic injuries by eliminating repetitive manual tasks. The Random Robotic Case Erector System includes: • FANUC M20iA/20 Robot • Combi gravity case magazine - holds 2 box sizes • Combi bottom flap folder with integrated 3M case sealing head. • Fixed robot base, anchored to the floor • Flexible end of arm tool to pick and erect multiple case sizes to eliminate changeover downtime • System wiring and controls • Color 7.5" touchscreen HMI display for selecting case size • Perimeter guarding with safety interlocks on doors • Programming for Robot, PLC/PMC, HMI and Vision • Complete documentation in electronic format • On-site training and support • Compliance with all applicable robotic safety standards. Alternate safety configuration may be available to allow an operator to changeover a case size in one magazine while the robot continues to work in other magazines. Contact Motion Controls Robotics to learn more about how to implement this system into your current end-of-line operations.