"Real savings in integration time, troubleshooting time and lower engineering development hours are all very achievable benefits when adding an EtherNet/IP safety network."
Dayton, OH — New EtherNet/IP safety software for Yaskawa Motoman's DX200 robot controller platform offers the significant benefits of workcell installation simplicity and ease of integration by reducing the amount of robot control wiring required. The EtherNet/IP safety interface can be used with or without Yaskawa Motoman's Functional Safety Unit (FSU) capability, allowing a wide range of safety control options.

The EtherNet/IP safety software requires no additional hardware in the robot controller, and operates by allowing the exchange of safety input/output data between the DX200 robot controller and a safety PLC - typically a Rockwell Automation GuardLogix PLC. When multiple robot controllers are managed by one master PLC, the GuardLogix PLC can manage the safety system (E-stops, safety gates, etc.). On multiple controller integrations, this replaces the unique dual channel wiring between the PLC and every controller, reducing redundant wiring and I/O modules, and allowing for easier troubleshooting.
"Reducing the wiring footprint and creating a safer work environment is just the start for the EtherNet/IP safety software option," stated Dean Elkins, Senior General Sales Manager. "Real savings in integration time, troubleshooting time and lower engineering development hours are all very achievable benefits when adding an EtherNet/IP safety network."
All machine safety signals, Functional Safety Unit (when included) signals and logic can be mapped to EtherNet/IP safety inputs and outputs. The safety communication interface is rated at Category 4 safety by TÜV Rheinland. It is also ODVA compliant. When EtherNet/IP safety is enabled, the standard (non-safe) EtherNet/IP communication interface is also provided with both scanner and adapter capabilities available for a non-safe EtherNet/IP network.
GuardLogix is a trademark of Rockwell Automation, Inc.
EtherNet/IP is a trademark of ODVA, Inc.
About Yaskawa Motoman
Founded in 1989, the Motoman Robotics Division of Yaskawa America, Inc. is a leading robotics company in the Americas. With over 300,000 Motoman robots installed globally, Yaskawa provides automation products and solutions for virtually every industry and robotic application; including arc welding, assembly, coating, dispensing, material handling, material cutting, material removal, packaging, palletizing and spot welding.
Featured Product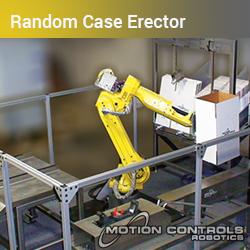 Random Case Erectors are ideal for fulfillment centers and other end-of-line packaging needs. Save money by eliminating changeover downtime. Reduce ergonomic injuries by eliminating repetitive manual tasks. The Random Robotic Case Erector System includes: • FANUC M20iA/20 Robot • Combi gravity case magazine - holds 2 box sizes • Combi bottom flap folder with integrated 3M case sealing head. • Fixed robot base, anchored to the floor • Flexible end of arm tool to pick and erect multiple case sizes to eliminate changeover downtime • System wiring and controls • Color 7.5" touchscreen HMI display for selecting case size • Perimeter guarding with safety interlocks on doors • Programming for Robot, PLC/PMC, HMI and Vision • Complete documentation in electronic format • On-site training and support • Compliance with all applicable robotic safety standards. Alternate safety configuration may be available to allow an operator to changeover a case size in one magazine while the robot continues to work in other magazines. Contact Motion Controls Robotics to learn more about how to implement this system into your current end-of-line operations.