Hybrid Manufacturing - what is all the fuss about?
Jun 22, 2015 -- The so-called Hybrid Manufacturing, is nothing more and nothing less than the blend of subtractive and additive manufacturing processes. This is news today because an increasing number of high-profile machine tool manufacturers that are bringing to market hybrid CNC multi-tasking machines combining traditional CNC machining with additive manufacturing on the same machine.

Where does MachineWorks fits in Hybrid Manufacturing?
Over 60% of the leading CAM manufacturers across the world have integrated MachineWorks' Software Development Toolkit (SDK) to drive their CNC simulation and verification seamlessly inside their CAM applications.
Now that the demands of the market are expanding to include 3D printing simulation functionality in a CNC environment, both CAD/CAM software providers and machine tool manufacturers are turning to MachineWorks to provide this enhanced functionality.
What has MachineWorks Software got that we haven't?
MachineWorks Software encompasses key functionality for the simulation of both process; traditional CNC machining where the material is being removed, as well as additive manufacturing where the material is being added. Furthermore, MachineWorks software offers analysis of the finished part and a quality check of both processes.
The unique Boolean algorithms that underlie MachineWorks' core technology have been developed since 1994 and are specifically optimised to make a robust CNC simulation. The MachineWorks engines can perform complex geometrical calculations and demanding solid model processing quickly and accurately. MachineWorks' revolutionary way of handing solid meshes has provided the 3D printing industry with automatic software solutions for processing polygons.
That's all very well and good, but we need flexibility
The degree of flexibility and customisation that MachineWorks APIs can offer to the Hybrid Manufacturing processes is unique, whether it is layer by layer addition or cutting material on the same stock. Mike Nicholson, Sales & Marketing Director of MachineWorks says, "We have always been able to deliver material addition as well as material removal but recently we have seen the demand for additive simulation rocketing".
About MachineWorks
MachineWorks Software sets the standard for CNC Simulation and Verification component software in the industry. More than 60% of CAM developers in the world have integrated MachineWorks technology into their applications and benefited from MachineWorks' cutting-edge functionality since 1994. MachineWorks' toolkit has been integrated by software and hardware OEMs looking for a solution in simulation of material removal and clash and gouge detection of any type of CNC machining. MachineWorks' core technology combines speed, accuracy and stability. It is ideally suited for anti-crash systems, complex machining and full machine simulation.
www.machineworks.com/
Featured Product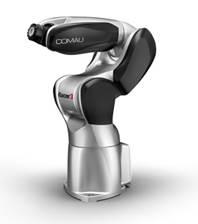 Racer3 is a powerful, high-speed, 6-axis articulated robot featuring a payload of 3kg and a reach of just 630 mm. Built from high-strength aluminum, the newest innovation in Comau robotics is lightweight and can be easily mounted on benches, walls, ceilings or on inclined supports. The third robot within the award-winning Racer family, Racer3 is Comau's response to the growing demand for fast, cost-effective robotic automation within small to medium-sized enterprises and emerging countries. Racer3 is intended for general industry use to increase productivity and reduce overall costs by automating industrial applications. It combines field-proven technology and enhanced dexterity with a keen focus on safety, design and product aesthetics. With a streamlined design and brushed metal exterior, the new powerhouse of a robot combines beauty and speed together with absolute precision and repeatability. Primary applications include assembly, material handling, machine tending, dispensing and pick & place.