The innovations of this young company are realizations of new theories on humanoid robotics: hybrid dynamic robotics.
PARIS--ECA Group, a Groupe Gorgé subsidiary, has taken a non-controlling stake in Wandercraft, one of the few companies specializing in cutting-edge technology for dynamic robotics. It has also created a new company, ECA Dynamics.

Wandercraft, which was founded in 2012, is developing an exoskeleton for medical use which should help disabled people recover mobility and lead an independent life. The innovations of this young company are realizations of new theories on humanoid robotics: hybrid dynamic robotics. These have already made possible several advances in humanoid robots, including:
- Faster movement,
- Shocks between feet and ground,
- Better performance in unpredictable situations (slippery surfaces, uneven terrain, etc.).
The biggest impact of these advances has been to make walking more fluid, increasing its energy efficiency and multiplying its autonomy.
ECA and Wandercraft have signed a cooperation agreement, creating the jointly-owned company ECA Dynamics. The new company will be 51% owned by ECA and 49% by Wandercraft. Its purpose will be to combine Wandercraft's humanoid robotics technology with ECA's mobile robotics to develop bipedal or quadrupedal robots for use in defense and security applications.
ECA Group is investing in these developments with the conviction that future bipedal and quadrupedal robots will complement the Group's existing range of mobile robots and that Wandercraft's technology will make foot-borne robots independent enough to be useful. They will be able to get round obstacles and move in spaces where current robots are hampered by their wheels or tracks. Humanoid-based robots will be able, for instance, to inspect an accident zone or carry loads.
The new company, ECA Dynamics, will help fill out ECA Group's range of terrestrial robots.
With this move, ECA Group has confirmed its strategy of offering customers complementary robots capable of working together to fulfill any mission tasks. In this case, humanoid robots will work alongside the Group's airborne drones (IT180) and land drones (Caméléon, Cobra, etc.).
ECA Group has taken a stake of around 9% in Wandercraft. ECA will bring its support and skills to Wandercraft for the industrialization and production of its exoskeleton aimed at the medical market. Some of the components used to make the exoskeleton are already produced by Groupe Gorgé's 3D printing arm, Prodways.
Demonstrations of this new technology in action will be released in early September.
About Groupe Gorgé:
Established in 1990, Group Gorgé is an industrial group operating in different areas of expertise: Smart Safety Systems, Protection in Nuclear Environments, Industrial Projects & Services and 3D Printing
In 2014, the Group reported revenue of €223.3 million. It is backed by 1,370 employees and operations in over ten countries. Groupe Gorgé is listed on NYSE Euronext Paris (ISIN: FR0000062671; Ticker code: GOE) and on the US OTC market (ISIN: US3994511034; OTC Pink: GGRGY / GGRGF) in the form of ADR.
More information available on www.groupe-gorge.com
Featured Product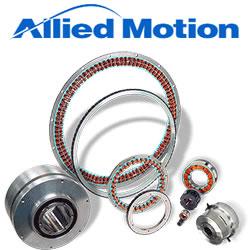 Allied Motion's Megaflux MFH170i series of 170 mm (6.7 in) diameter housed brushless torque motors consists of a high performance brushless DC torque motor, a digital servo drive, and an optical encoder, all integrated into a rugged machined aluminum housing with robust duplex bearings. The MFH0170i series features a 63.5 mm (2.5 in) large-bore through shaft, and is characterized by a very high torque-to-inertia ratio. There are three stack lengths in the series with peak torque ranging from 8.5 up to 16.9 Nm (75 up to 150 lb-in). The standard winding voltage is 48 V. And to ease the hassle of long leadtimes for prototypes, the new MFH170i is now available through our QuickShip program.