Attendees Will Get First Look at New Robots and Applications at Adept's Booth, A116, July 8-11 in Shanghai
Pleasanton, Calif., July 2, 2015 - Adept Technology, Inc. (Nasdaq:ADEP), a

leading provider of intelligent robots, autonomous mobile solutions and
services, will showcase its latest industrial and mobile robots at the China
International Robot Show (CiROS) 2015 exhibition July 8-11. Attendees will
see live robot demonstrations at the Adept booth, including Adept's newest
industrial robot for packaging applications and new applications for Lynx
autonomous intelligent vehicles (AIVs).
"At CiROS, Adept will be unveiling a new robot for high-speed packaging
applications and demonstrating our latest mobile robot capabilities," said
Terry Hannon, chief business development and strategy officer at Adept. "We
encourage attendees to come by the Adept booth, watch the demos and learn
how our robots could increase the quality and throughput, streamline
materials transport, and lower costs in their operations."
Attendees will see:
-Introduction and live demonstration of Adept's new high-speed packaging
robot designed for advanced performance and easy deployment.
-A next-generation Lynx AIV designed to move carts with payloads up to 130
kg. Adept's Lynx products streamline materials transport applications,
increasing customers' efficiencies in warehousing, logistics and
manufacturing.
-An eCobra SCARA robot equipped with Adept's AnyFeeder for maximum
flexibility in part feeding. eCobra is Adept's newest family of 4-axis
industrial robots, offering a controller-less architecture for easy
integration and exceptional performance for high-speed packaging and
assembly.
CiROS will be held July 8-11, 2015, at the National Exhibition and
Convention Center in Shanghai, China. Attendees are encouraged to visit
Adept at booth A116, and can schedule booth appointments in advance by
contacting china@adept.com.
About Adept Technology, Inc.
Adept is a global, leading provider of intelligent robots, autonomous mobile
robot solutions, and services that enable customers to achieve precision,
speed, quality and productivity in their assembly, handling, packaging,
testing, and logistical processes. With a comprehensive portfolio of
high-performance motion controllers, application development software,
vision-guidance technology and high-reliability robot mechanisms with
autonomous capabilities, Adept provides specialized, cost-effective robotics
systems and services to high-growth markets including medical, electronics,
food and semiconductor; as well as to traditional industrial markets
including machine tool automation and automotive components. More
information is available at www.adept.com.
Featured Product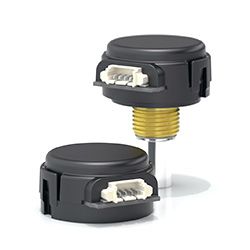 US Digital is pleased to announce the launch of the E4T, their latest series of miniature high performance optical encoders. The E4T series delivers a marked performance increase over similar encoder models and designed to be an enhanced replacement for the E4P encoder series. The E4T utilizes state of the art transmissive optical sensing technology, and incorporates US Digital's own proprietary OptoASIC. Assembly of the E4T is simple and efficient and retains the previous E4P's form factor. Key features of the new E4T include: • Mechanically and Electrically Interchangeable with E4P • Improved Quadrature Signal Strength • 100 kHz Frequency Response • Transmissive Optical Design • Collet Style Push on Optical Disk Design (Patent Pending) • Simple & Efficient Assembly Process As with all of our products the E4T is designed and manufactured in their Vancouver, Washington USA facility and is available for purchase as of December 2014.