"CoaXPress holds many advantages over other industry standards in terms of bandwidth, infrastructure cost, ease of implementation, and scalability, especially in upgrades from coaxial cable based analog systems"
WOBURN, MA, JULY 13, 2015 -- BitFlow, the world's leading innovator of frame grabbers for machine vision, semi-conductor and scientific imaging, is offering system integrators a new cost-effective alternative to quad port CoaXPress frame grabbers with the debut of its new Cyton CXP2, a dual port version of its industry-leading CXP4 board.

Merging affordability with reduced redundancy, the CXP2 opens new doors to smaller-scale vision applications acquiring high-speed, high-resolution images from either a single dual-link CXP-6 camera or two single-link CXP-6 cameras on a PC. Each link supports standard CoaXPress bitrates up to 6.25 Gb/S.
"CoaXPress holds many advantages over other industry standards in terms of bandwidth, infrastructure cost, ease of implementation, and scalability, especially in upgrades from coaxial cable based analog systems," noted Donal Waide, Director of Sales & Marketing for BitFlow. "What is truly exciting is bringing these advantages to our customers in the more compact, cost-effective design of the Cyton CXP2. This also benefits the customer who wants to use the larger sensors such as 20 or 25MP but not at full speed. Their bottom line for their application will be more cost effective."
To handle high data rates, the Cyton CXP2 is based on PCI Express bus technology that is realized on BitFlow's PCIe Gen 2.0 platform featuring a Gen 2.0 PCIe x8 back end for the ultimate high speed access to host memory, along with a sophisticated DMA engine to handle the demands of new camera interface standards. Because it is CoaXPresss, the Cyton CXP2 also reduces cabling complexity and eliminates power supplies by way of Power over CoaXPress (PoCXP) support delivering up to 13W over each CXP link. Simultaneously, it sends control commands and triggers to the camera at 20 Mb/S to simplify overall system integration.
The Cyton CXP2 integrates BitFlow's transformative StreamSync system consisting of a redesigned Acquisition Engine and Buffer Manager to more efficiently support variable sized images with faster context switches between frames. Per frame control of acquisition properties and hardware control of image sequencing helps users achieve unprecedented levels of system intelligence across a range of demanding vision applications.
The Cyton-CXP2 can acquire fixed or variable size images and features a programmable ROI (Region Of Interest) sub-windowing capability. As with previous BitFlow interface products, it supports not only simple triggering modes but also complicated, application-specific triggering and control interactions with the hardware environment.
Adding the Cyton-CXP2 to an application is simple with BitFlow SDK 5.9, which supports both 32-bit and 64-bit operating systems. BitFlow recently added Windows 10 to its extensive list of operating systems already supported by its SDK, including the robust multitasking and multiprocessing performance benefits of Windows XP/2003/2008/Vista/Windows 7/Windows 8. Windows 10 support requires BitFlow SDK 5.90 or later
Learn more at www.bitflow.com.
Featured Product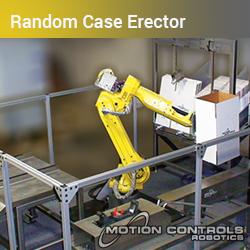 Random Case Erectors are ideal for fulfillment centers and other end-of-line packaging needs. Save money by eliminating changeover downtime. Reduce ergonomic injuries by eliminating repetitive manual tasks. The Random Robotic Case Erector System includes: • FANUC M20iA/20 Robot • Combi gravity case magazine - holds 2 box sizes • Combi bottom flap folder with integrated 3M case sealing head. • Fixed robot base, anchored to the floor • Flexible end of arm tool to pick and erect multiple case sizes to eliminate changeover downtime • System wiring and controls • Color 7.5" touchscreen HMI display for selecting case size • Perimeter guarding with safety interlocks on doors • Programming for Robot, PLC/PMC, HMI and Vision • Complete documentation in electronic format • On-site training and support • Compliance with all applicable robotic safety standards. Alternate safety configuration may be available to allow an operator to changeover a case size in one magazine while the robot continues to work in other magazines. Contact Motion Controls Robotics to learn more about how to implement this system into your current end-of-line operations.