Midwest Engineered Systems Inc., an innovative provider of premier custom machines and integrated systems, has become a Lincoln Electric Authorized Integrator.
Midwest Engineered Systems uses a variety of Lincoln Electric equipment when integrating robotic welding, material handling, automated metal forming, cutting, deburring, and other advanced manufacturing systems for customers.

We trust Lincoln Electric as an all American leading brand with a global presence as a manufacturer of products including arc welding equipment, welding consumables, and robotic welding systems and have partnered with them to serve the growing demand for automated welding solutions of American manufacturers.
Midwest Engineered Systems is an authorized integrator of Lincoln Electric as well as many other top brands such as: ABB, Fanuc, KUKA, and Mitsubishi. These partners help us deliver best-in-class automation systems to customers around the world. Our team is dedicated to providing manufactures with the custom robotic and automation systems needed to excel at any application.
About Midwest Engineering Systems Inc.
Midwest Engineering Systems Inc. is committed to providing simple solutions to complex automation problems. Our engineering staff has technical expertise that includes a diverse knowledge base, building thousands of custom automation systems over the last 24 years.
Midwest Engineering Systems Inc. has been providing high-quality custom machine design and automation solutions since 1991.
Featured Product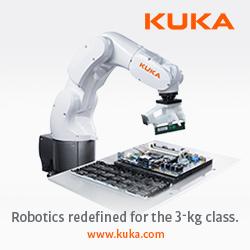 Great advances often start with small steps - in manufacturing cells measuring only 600 × 600 mm. Here, the KR 3 AGILUS is in its element. Particularly in the case of small parts and products which must be produced in a minimum of space. KUKA expertise, concentrated into the smallest of spaces, is setting new standards for the 3-kg class. The lightweight robot masters various tasks with agility, dynamism and maximum precision, leading to high flexibility in production - even when it comes to extremely narrow spaces.