This Version of the ReWalk Personal Exoskeleton Offers Users the Fastest Walking Speed, Most Natural Gait, and the Most Precise Fit of Any Exoskeleton
YOKNEAM ILIT, Israel and MARLBOROUGH, Mass., July 14, 2015 -- ReWalk Robotics Ltd. (Nasdaq: RWLK), the leading global exoskeleton manufacturer, unveiled today the latest edition of its Personal powered exoskeleton system—the ReWalk Personal 6.0—marking the company's sixth generation community use product. The ReWalk Personal 6.0 offers those in the spinal cord injured community the most functional exoskeleton system with the fastest walking speed and the most precise fit, among many other key benefits. The ReWalk Personal 6.0 is the latest version of the FDA cleared exoskeleton, which can be used at home and in the community.

"The launch of the 6.0 offers those with spinal cord injury an exoskeleton design that fits better, walks faster and has better gait control than prior generations of the product," said ReWalk's CEO Larry Jasinski. "Our design efforts are built on many years of user experience with a philosophy of offering an outstanding product for use in all aspects of everyday life. The enhanced design of the 6.0 offers highly customized fittings, and software to better match the size and anatomy of each individual user, providing a better walking experience than any prior design and over any other known products in clinical trials around the world."
The ReWalk 6.0 System at a Glance:
The Most Precise Fit: The Personal 6.0 System is fitted to the user's measurements and custom ordered for each individual. This precise fit enhances system function, safety and alignment of the user's joints.
Fastest Walking Speed: Clinical research on the ReWalk device has demonstrated that users can walk at speeds up to 0.71 meters / second, faster than any other exoskeleton.
Streamlined Design: The removal of the backpack eliminates weight from the shoulders, giving the user freedom for clothing choice and movement. The sleek redesign of the strapping and padding provides the users with an easier and faster capacity to put the system on and take it off.
"Our experience and feedback from daily use of the ReWalk systems in the community, combined with technical advances achieved by our R&D organization have enabled this next generation prosthetic exoskeleton," said Jodi Gricci, VP of Global Marketing and Training at ReWalk. "Our user evaluations with the 6.0 demonstrated the value of better fit, improved gait control and more comfort with the removal of the backpack in this streamlined design."
ReWalk remains the only exoskeleton manufacturer in the United States with FDA clearances for both its Personal and Rehabilitation systems. ReWalk has also received regulatory clearances for their systems in several global geographies including: North America, Europe, Asia, the Middle East and Australia. ReWalk is the most used exoskeleton worldwide, with Personal and Rehabilitation Systems in use across several continents.
ReWalk is the most studied exoskeleton in the industry. The wealth of clinical data has provided great insight into the potential health benefits that result from standing and walking using the ReWalk systems. Studies have identified a number of health benefits including: improved bladder and bowel function, improved mental health, improved sleep, reduced fatigue, decreased body fat, decreased pain and improved posture and balance.
The ReWalk Personal 6.0 Systems are now available for purchase, with anticipated delivery of the first units this summer.
Members of the media: ReWalk CEO Larry Jasinski will be available for interview in New York City July 14 and 15. In addition there will be ReWalkers available for interview and demonstration of the 6.0 system. All Media Inquiries: Jennifer Wlach, 202-551-1454 // jwlach@mercuryllc.com
Featured Product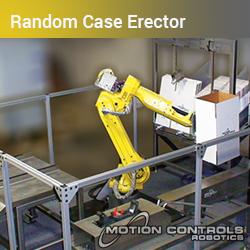 Random Case Erectors are ideal for fulfillment centers and other end-of-line packaging needs. Save money by eliminating changeover downtime. Reduce ergonomic injuries by eliminating repetitive manual tasks. The Random Robotic Case Erector System includes: • FANUC M20iA/20 Robot • Combi gravity case magazine - holds 2 box sizes • Combi bottom flap folder with integrated 3M case sealing head. • Fixed robot base, anchored to the floor • Flexible end of arm tool to pick and erect multiple case sizes to eliminate changeover downtime • System wiring and controls • Color 7.5" touchscreen HMI display for selecting case size • Perimeter guarding with safety interlocks on doors • Programming for Robot, PLC/PMC, HMI and Vision • Complete documentation in electronic format • On-site training and support • Compliance with all applicable robotic safety standards. Alternate safety configuration may be available to allow an operator to changeover a case size in one magazine while the robot continues to work in other magazines. Contact Motion Controls Robotics to learn more about how to implement this system into your current end-of-line operations.