Free Resource Helps Buyers Assess the True Cost of Ownership for the Best Value
LONG BEACH, Calif., July 15, 2015 -- DENSO Robotics, a global supplier of advanced robotic technology, has published a new guide to help prospective robot buyers meet their manufacturing, packaging and other industrial needs. The guide, "Small Assembly Robots: Comparing the Cost of Ownership of Different Brands," explains what buyers need to know to evaluate their options and comparison shop for the best value.

"There are a number of variables to consider, and some are more obvious than others," said Peter Cavallo, robotics sales manager, DENSO Products & Services Americas, Inc. "Price alone doesn't tell the whole story. It's important to know what's in the package and what isn't."
In a marketplace growing at an unprecedented rate, initial hardware and software costs of small assembly robots vary widely from one manufacturer to another. For starters, buyers need to know whether the robot arm and controller are sold separately or as a set.
"The initial quote is not the total cost of ownership," Cavallo said. "Are all the components, features and software a buyer needs included or are they add-ons? Are there additional licensing and activation fees? What about training?"
The total cost of ownership also includes long-term costs, which account for most of what the buyer will ultimately spend on a robot. Key factors are maintenance requirements, telephone support and service contracts, reliability and longevity, obsolescence, speed and productivity, and energy consumption.
Concise and user-friendly, the guide offers a checklist to help all prospective buyers make an informed decision before making a financial commitment.
"With this guide, navigating the market just got a lot easier," Cavallo said.
To download the free guide, visit http://densorobotics.com/downloads/wp/3.
More than 77,000 DENSO robots are used for precision assembly, manufacturing, product testing and quality assurance by companies worldwide. A leader and pioneer in manufacturing automation, DENSO is the world's largest user of small assembly robots, with more than 17,000 of its own robots designed and used in its own manufacturing facilities. For more information on DENSO Robotics, visit www.densorobotics.com.
Featured Product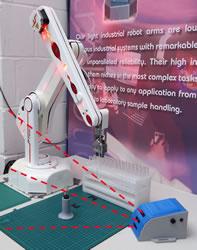 The 6-axis version of the R17HS high speed variant of the R17 robot is now available. As is our policy the 6th axis is an optional bolt-on module. At the same time we have made it even faster and new software eliminates shake and greatly improves repeatability as this video shows. Please see https://www.youtube.com/watch?v=3wG0MeiJ-yE. The video would seem to imply a repeatability of 0.01mm but we are sticking with 0.2mm in the spec. The motor specialist was able to tune the motors from the other side of the pond. My first reaction when we put power on and entered the first commands was to jump back in amazement (and maybe an expletive). Tip speed is now 3m/s; that's 3 times as fast as its nearest competitor yet costs half the price. I love it when a plan comes together.