The World's First Open-Source Companion Robot
PARIS--Blue Frog Robotics, creator of BUDDY, the world's first open-source companion robot, today rolled out initial details of its software development kit (SDK) and developer program that will make it easy to build apps for BUDDY.

Launched July 7 with an Indiegogo campaign, BUDDY makes life easier in many ways. He can be a personal assistant, a playmate for children, help with the care of those who are older or less mobile, and act as a home security system. These just touch the surface of BUDDY's full potential.
BUDDY is built on an open-source platform currently running in the Android and Windows environments. It is compatible with popular development tools, such as Unity 3D, Arduino and OpenCV. Those who purchase the BUDDY Developer Edition will be enrolled in the developer program, which includes the SDK, technical support, and access to a global community of BUDDY developers. The early bird developer edition is expected to ship in late 2015.
"Developers around the world can help us make BUDDY more intelligent and useful by giving him new skills, content and features," said Rodolphe Hasselvander, Blue Frog Robotics co-founder and CEO. "Buddy was purposely built to be compatible with popular development tools to allow as many developers as possible to collaborate with us."
The BUDDY SDK will include:
* A visual programming tool based on Unity 3D, a cross-platform development engine used by more than one million game developers;
* Advanced tools to create new libraries;
* A library of animations, sounds and vocalizations;
* A text-to-speech tool for BUDDY's voice;
* A virtual simulator that lets developers create and observe more basic animations, timelines and behaviors without a robot.
Languages supported include, Python, C++, C, C#, Java and JavaScript.
About Blue Frog Robotics
Blue Frog Robotics, the creator of BUDDY, was co-founded by former CRIIF (Robotics Lab) Executive Director Rodolphe Hasselvander. The company's mission is to design and develop robots that are accessible to everyone and make people's lives easier and safer. Because BUDDY is built on an open-source technology platform, developers across the world can easily collaborate to build hardware and software for it.
For more information visit http: www.bluefrogrobotics.com
Featured Product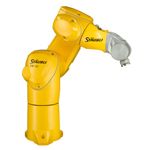 Introducing the TP80 Fast Picker, a new series that delivers speeds in excess of 200 picks per minute, and more flexibility at a lower cost. Stäubli has long set the standard for high speed and precision in robotic performance, ensuring the highest possible throughput and shortest cycle times.