Aims to Expand Presence in Trillion-level Emerging Robotics Market
HONG KONG, July 20, 2015 -- Cogobuy Group ("Cogobuy" or the "Company" , stock code: 400.HK ), the largest e-commerce service platform for enterprise procurement in the electronics manufacturing industry in China, is pleased to announce its INGDAN.com platform (Hardeggs platform), a leading intelligent hardware innovation business platform of the Company, successfully held the Robotics Industry Conference in Shanghai on July 9, 2015. Representatives from leading robotics technology companies, including Sanyo, Nikon and Harmonic, and experts in the robotics supply chain, gathered in the conference to discuss how INGDAN.com to provide one-stop services and support for Chinese robotics startups.

Mr. Jeffrey Kang, CEO of Cogobuy Group, said: "With favorable policies and government supports, the emerging robotics industry is rapidly expanding. According to China's Ministry of Industry and Information Technology, robotics will become a trillion (RMB)-level market in the future. A large number of innovation driven startups are expected to emerge to explore fast growing consumer robotics and industrial robotics markets. INGDAN.com will cooperate with robotic technology enterprises and Internet enterprises to build a one-stop services platform for robotics industry and provide services to innovation enterprises in the industry. The platform will significantly lower the cost of business and encourage innovation in robotics industry. As the largest Internet of Things ("IoT") innovation business platform in China, INGDAN.com strives to build a one-stop Online-to-Offline ("O2O") platform, with a focus on supply chain services. By leveraging its followers, INGDAN.com provides entrepreneurs with one-stop services to market and sell the products they create. This year, INGDAN.com has targeted to gather 10,000 hardware innovation projects and 10 million fans. We are devoted to developing INGDAN.com to become the largest intelligent hardware O2O services platform in the world."
About Cogobuy Group
Cogobuy Group is the largest e-commerce service platform for the enterprise procurement of China's electronics manufacturing industry. Through the e-commerce platform, including a direct sales platform, an online marketplace and a dedicated team of technical consultants and professional sales representatives, the Company provides customers with comprehensive online and offline services across pre-sale, sale and post-sale stages. The Company serves mainly SME electronics manufacturers.
For further information, please refer to the Company's website at http://www.cogobuy.com/
About INGDAN.com
INGDAN.com is an online and offline platform focusing on the hardware innovation sector. The platform provides information of hardware innovation, knowledge of the supply chain and supply chain demand docking for IoT innovation entrepreneurs. It is a one-stop hardware innovation business platform with its core being the "supply chain."
For further information, please refer to the Company's website at http://www.ingdan.com/
Featured Product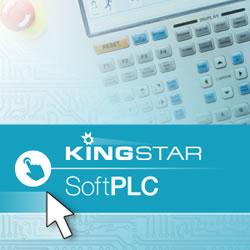 The top machine builders are switching from proprietary hardware-based PLCs, like Allen-Bradley, TwinCAT, Mitsubishi and KEYENCE, to open standards-based EtherCAT-enabled software PLCs on IPCs. KINGSTAR provides a fully-featured and integrated software PLC based on an open and accessible RTOS. KINGSTAR Soft PLC also includes add-on or third-party components for motion control and machine vision that are managed by a rich user interface for C++ programmers and non-developers alike.