Rapid-Line Inc. Achieves a Four-Month ROI with Rethink Robotics' Baxter
BOSTON, July 22, 2015 -- Rapid-Line Inc., a leader in metal fabrication and contract manufacturing headquartered in Grand Rapids, Mich., has deployed two Baxter robots to optimize efficiency, fill gaps in production and enable employees to perform more complex roles.

Baxter, the two-armed collaborative robot from Rethink Robotics, is working in conjunction with the CNC milling machine to create fabricated steel parts for office furniture and panels, feeding and removing parts from the machine. Deployed in February, Baxter is handling more than 600 parts per day, and has already met the return on investment (ROI) goals for Rapid-Line in just four months.
"We've long deployed traditional robots that perform welding and cutting tasks in our facility, and while they work well for that specific task, those machines are caged and inflexible," said Mark Lindquist, president of Rapid-Line. "Our goal was to find a robot that can work safely alongside our employees and handle a variety of repetitive tasks, freeing up our team to tackle more complex jobs. Baxter has allowed us to accomplish those goals."
The Rapid-Line team has recently deployed a second Baxter robot as part of its window assembly operation, inserting steel stamping into an aluminum extrusion for the window frame.
"Relieving your employees from simple, repetitive tasks presents a significant opportunity for manufacturers, while there are so many complex tasks that require the cognition, judgment and dexterity of a human worker," said Jim Lawton, Rethink Robotics' chief product and marketing officer. "Since Baxter is able to handle these machine tending and pick-and-place tasks, employees can be utilized where they can add more value and drive innovation."
In operation for more than 89 years, Rapid-Line is a leader in technology and innovation, providing everything from simple component parts to complete assembled products for the transportation, furniture, medical, consumer products, military and automotive industries.
For more information, please visit www.rethinkrobotics.com.
Featured Product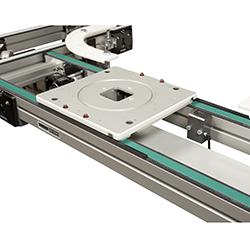 Dorner's 2200 Series Precision Move Pallet Systems feature the latest advancements in pallet traffic management. A unique pin tracking system guides pallets through merges and curves while maintaining product orientation. The fast belt change capability increases efficiency and reduces downtime in assembly automation processes. They are available in lengths up to 25 ft., can handle loads up to 500 lbs. and travel at speeds up to 114 ft/min.