Traverse Legal, PLC has recently launched its new website regarding Section 333 Exemptions and the use of drones (UAS/UAV) for commercial use under FAA regulations.
Traverse City, MI July 23, 2015

Traverse Legal, PLC has recently launched its new website http://www.dronelaw.pro. The website aims to convey essential information regarding FAA Regulations on the operation of drones (UAS/UAV).
DroneLaw.Pro is staffed by legal experts of the drone industry offering assistance in the filing and compliance of the Section 333 Petition exemptions for the commercial use of UAS/UAV/Drones. The new website offers vast amounts of information regarding Federal and State Drone Laws, filing a Section 333 Petition and other Federal Aviation Administration resources regarding drones.
With the FAA granting Section 333 Petition Exemptions on a strict discretionary basis, DroneLaw.Pro's objective is to be the leader in legal matters regarding Section 333 Petitions Exemptions and to assist individuals and companies with acquiring a Section 333 Permit, maintaining compliance under the Section 333 Permit and all other FAA regulations for UAS/drones. They understand all legal aspects of the unmanned aircraft systems/drones including the technology, engineering, electrical systems, navigation technology, hardware and software systems of drones and the FAA laws surrounding UAS/UAVs.
Featured Product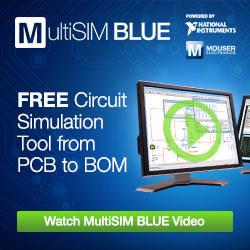 Powered by NI, MultiSIM BLUE Upgrade includes schematic capture, simulation, PCB layout, BOM-to-cart capabilities using only one tool. No more switching between different programs for circuit design. Perform MCU co-simulation. New voltage, current and power probes as well as faster active analysis mode are also available. Plus, it even comes with an expansive database of new components from industry-leading manufacturers. Discover why EDN named MultiSIM BLUE a HOT 100 Product of the Year.