New program offers flexible, introductory training in automation technology for manufacturing
Toronto, Ontario August 04, 2015

The George Brown College Centre for Continuous Learning is pleased to announce the launch of the Automation Technician Certificate, our newest online technical training program.
The Automation Technician program provides an introduction to industrial automation, including digital electronic, process control and programming of PLCs, robotics and SCADA systems. The program examines applications and examples of automated manufacturing systems including both theory and function of digital and industrial electronics, hydraulics and pneumatics, robotics systems, digital programming languages and alarm management.
"The Automation Technician program was developed in response to today's requirements that technicians have a comprehensive 'inter-professional' knowledge of electricity, electronics, electro-mechanics, robotics, and automation (PLCs)," says Colin Simpson, Dean of Continuous Learning at George Brown College.
The online program is delivered using a combination of theory and labs. Some great features include: state-of-the-art simulation software LogixSim, a suite of software products that emulate real-world tools and other systems. The LogixSim includes CircuitLogix, 3DLab, PLCLogix and RoboLogix simulation tools that can be used to design, program, install and troubleshoot industrial electronic, robotics and PLC equipment.
Start anytime enrollment, pay-as-you-learn registration, online exams and telephone/email/forum-based tutorial support provide an adaptable and convenient learning environment for people whose lives demand a more flexible approach to training than that used in traditional full-time or part-time programs. The average time required to complete the program is approximately 32 weeks of part-time study. For more information, please visit http://www.automationprogram.com.
George Brown offers award-winning online technical training in Electronics, Electromechanical, Programmable Logic Controllers and Robotics. The Centre for Continuous Learning provides distance education-based technical training to over 14,000 registered students, located all around the world. For more information, please visit http://www.gbctechtraining.com
About George Brown College
Toronto's George Brown College has established a reputation for equipping students with the skills, industry experience and credentials to pursue the careers of their choice. The college offers programs from its three main campuses located across the downtown core, including its newest location at the Toronto waterfront, which opened in September 2012. George Brown offers 148 full-time and 1,600 continuing education programs across a wide variety of professions to a student body of approximately 64,000 (including those enrolled in full-time, part-time and continuing education programs). Students can earn diplomas, post-graduate certificates, industry accreditations, apprenticeships and four-year bachelor degrees.
Featured Product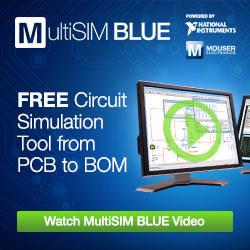 Powered by NI, MultiSIM BLUE Upgrade includes schematic capture, simulation, PCB layout, BOM-to-cart capabilities using only one tool. No more switching between different programs for circuit design. Perform MCU co-simulation. New voltage, current and power probes as well as faster active analysis mode are also available. Plus, it even comes with an expansive database of new components from industry-leading manufacturers. Discover why EDN named MultiSIM BLUE a HOT 100 Product of the Year.