Comau will host a tour of its Innovation Campus for city officials in addition to the unveiling event.
On Wednesday, August 12, at 10:00AM, Comau LLC will host a ribbon cutting event to unveil their robotic industrial artwork in Southfield. The robot will be located at the southern entrance to the city of Southfield in the Telegraph Road median, just north of Eight Mile Road and in front of Comau's North American Headquarters and Innovation Campus.

Comau is donating the robot to help identify the city as the automation and technology leader it is. Comau will host a tour of its Innovation Campus for city officials in addition to the unveiling event.
In conjunction with the ribbon cutting ceremony, Comau employees and invited guests will enjoy their annual picnic as well as an employee classic car and motorcycle show.
About Comau
Comau is the worldwide leader in manufacturing flexible, automatic systems and integrating products, processes and services that increase efficiency while lowering overall costs. Headquartered in Turin, Italy, with an international network that spans 17 countries that employ more than 13,500 employees, Comau uses the latest technology and processes to deliver advanced turnkey systems that consistently exceed the expectations of its customers. Comau specializes in body joining & assembly, powertrain machining & assembly, robotics and maintenance, as well as advanced production systems and environmental services for a wide range of industrial sectors. The continuous development of its products and services enables Comau to lead the automation industry in meeting the unique requirements of each customer, and through all phases of the project - from design, implementation and installation, to production start-up and maintenance services.
Featured Product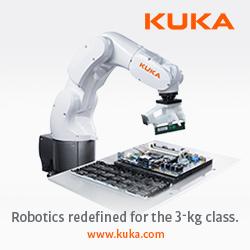 Great advances often start with small steps - in manufacturing cells measuring only 600 × 600 mm. Here, the KR 3 AGILUS is in its element. Particularly in the case of small parts and products which must be produced in a minimum of space. KUKA expertise, concentrated into the smallest of spaces, is setting new standards for the 3-kg class. The lightweight robot masters various tasks with agility, dynamism and maximum precision, leading to high flexibility in production - even when it comes to extremely narrow spaces.