Each product is an exercise in the evolution from raw technology to product maturity and user friendliness.
CHENGDU, China, Aug. 7, 2015 -- The "mostfun Pro", the world's first "Intel Inside" desktop 3D printer and the result of a joint collaboration between Chengdu mostfun S&T Co,. Ltd and Intel, will seek crowdfunding on Kickstarter, the world's leading crowdfunding platform, starting from August 11.

A few backers had a try at some high priced 3D printing technologies on Kickstarter in 2012 and 2013, and these initial efforts were followed by hundreds of thousands of backers who took home low-cost 3D printers via Kickstarter during the following two years. However, the backers were not satisfied with the user experience and their comments on Kickstarter demonstrated that they expected improvements especially in terms of ease of use, stability and after-sale service.
After a comprehensive review of 3D printing projects featuring FDM, SLA and DLP printing technologies, three technologies which successfully completed crowdfunding campaigns on Kickstarter and raised funds ranging from US$200,000 to US$3,000,000 based on units priced from US$2,500 to as low as $199, we came to the conclusion that 3D printers are evolving from being technology-driven to being product-driven. In addition to low price and originality in design, overall product quality became a priority for backers.
mostfun CEO Lvzhou Chen said: "A good 3D printer should be reliable and easy to use. It should require no manual to go through to get it started and should always deliver steady performance over the long term. This is exactly what we want to bring to you with the 'mostfun Pro'."
Ease of use as well as long term stability are the two features that have been specifically optimized in the mostfun Pro as a result of an analysis of the main drawbacks in a number of desktop 3D printers currently available on the market. On one hand, mostfun decided on the Intel Edison, which allows users to access the control panel by scanning a QR code on their mobile device as well as direct log-in via a browser, in addition to a number of convenient and intelligent functions such as power-off protection and built-in printer memory in a move to offer a "plug and print" experience. On the other hand, the unit features a brand new extruder, the BAU, which is compatible with a wide range of materials including PLA, ABS, TPU, WAX and HIPS. The extruder has built-in auto-calibration to offer stable and high-precision output. Last but not the least, "mostfun Pro", with Intel Inside's reliability and technology guarantee, is priced very attractively on Kickstarter.
Each product is an exercise in the evolution from raw technology to product maturity and user friendliness. Backers will gain a new and rewarding experience from the maturity of "mostfun Pro" 3D's technology and the stability delivered by Intel Inside.
Featured Product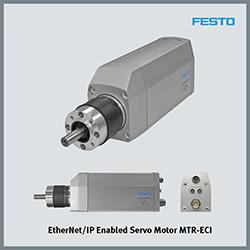 Mechatronic Motion Solutions from Festo is a unique system of components, modules, and software. It integrates all types of pneumatic, servopneumatic and (electro)mechanical automation motion and combines them according to your task. Irrespective of the control system environment you use, Mechatronic Motion Solutions always provides the appropriate interfaces. The fingers can be actively moved and their strength amplified; the operator's hand movements are registered and transmitted to the robotic hand in real time. The objectives are to enhance the strength and endurance of the human hand, to extend humans' scope of action and to secure them an independent lifestyle even at an advanced age.