3D printing now possible outside the ISS, in the vacuum of space.
Mountain View, CA August 11, 2015

Made In Space has announced a breakthrough in their efforts to develop manufacturing technologies for extra terrestrial applications. Following on from their successes in printing on the International Space Station, Made In Space has been working on ways to operate outside the International Space Station in the vacuum of space. Last month Made In Space successfully completed a round of tests, proving that their next generation of 3D printers can operate in the vacuum of space.
Last year, Made In Space became the first company to build and operate additive manufacturing hardware in space when their hardware completed the first mission phase of NASA's 3D Printing in Zero-G Technology Demonstration. The printer produced twenty-four parts that have since been returned to Earth for laboratory analysis. This mission was a precursor to the company's completely commercial Additive Manufacturing Facility (AMF) which will fly later this year to the International Space Station.
"We believe we are as little as 18 months away from incorporating the current designs into on-orbit tests," said Mike Snyder, Chief Engineer at Made In Space, "These preliminary tests, combined with our experience with microgravity additive manufacturing, show that the direct manufacturing of structures in space is possible using Made In Space developed technologies. Soon, structures will be produced in space that are much larger than what could currently fit into a launch fairing, designed for microgravity rather than launch survivability. Complete structural optimization is now possible in space."
Made In Space tested a modified version of their AMF, with their proprietary vacuum-compatible extrusion heads, and accumulated over a week of testing in a vacuum chamber. Various specimens were produced using aerospace-grade thermopolymers to test how the deposition process works in the vacuum environment. Those specimens will be tested this month to determine if any mechanical properties differ when compared to parts produced in Earth atmosphere. Preliminary results suggest that the vacuum-based 3D printing process works as expected, without any show stoppers.
About Made In Space
Made In Space, Inc. (MIS) was founded in 2010 as the world's first space manufacturing company. MIS was contracted by NASA to design, build, and operate the 3D Printing In Zero-G Experiment (3D Print) on the International Space Station (ISS) in 2014. 3D Print became the first machine to manufacture off-Earth. Controlled from a mission operations center at MIS HQ in the NASA Ames Research Park, the device allows for hardware to be digitally sent to space and printed out. By the end of 2015 the company will launch a new 3D printer, the Additive Manufacturing Facility (AMF), to provide hardware manufacturing services to both NASA and the U.S. National Laboratory onboard the ISS. As the first commercially available manufacturing service in space, the AMF will put the capability of off-world manufacturing in the hands of space developers everywhere.
Featured Product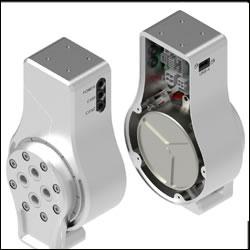 maxon launches the next generation of positioning controllers - the EPOS4. A high performance module with detachable pin headers and two different power ratings. With a connector board, the modules can be combined into a ready-to-install compact solution. Suitable for efficient and dynamic control of brushed and brushless DC motors with Hall sensors and encoders up to 750 W continuous power and 1500 W peak power. The modular concept also provides for a wide variety of expansion options with Ethernet-based interfaces, such as EtherCAT or absolute rotary encoders.