Aug 10, 2015 -- June U.S. manufacturing technology orders totaled $355.43 million according to AMT - The Association For Manufacturing Technology. This total, as reported by companies participating in the USMTO program, was up 4.6% from May's $339.86 million but down 13.2% when compared with the total of $409.68 million reported for June 2014. With a year-to-date total of $2,157.64 million, 2015 was down 8.7% when compared with 2014.

These numbers and all data in this report are based on the totals of actual data reported by companies participating in the USMTO program.
"This monthly boost in orders is good news at face value, but belies an overall sense of concern in U.S. manufacturing," said AMT President Douglas K. Woods. "There was noteworthy activity in the aerospace, off road/highway construction, automotive, and contract machining industries. But if not for a dozen or so standout orders from those industries, it could have been another down month. Economic uncertainty both here and internationally continues to cause concern and hesitation to invest in capital equipment, yet opportunities remain within several core industry sectors."
The United States Manufacturing Technology Orders (USMTO) report, compiled by the trade association representing the production and distribution of manufacturing technology, provides regional and national U.S. orders data of domestic and imported machine tools and related equipment. Analysis of manufacturing technology orders provides a reliable leading economic indicator as manufacturing industries invest in capital metalworking equipment to increase capacity and improve productivity.
Featured Product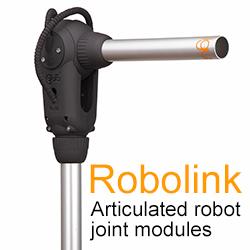 Robolink: Articulated joint modules for robots. igus® now offers a lightweight, maintenance- and corrosion-free range of robot joints for humanoid systems or other automated applications. The carbon-fiber plastic joints can rotate and oscillate freely via four wire ropes. No more expensive milling, cutting or DIY systems. Moving mass is reduced to a minimum. The actuators (engines, pneumatics and hydraulics) and the control module (DP, PC) are kept separate. Contact igus® for more information and free samples.