The TDM750 will be available in the third quarter of 2015.
BERKSHIRE, U.K. — Aug. 19, 2015 — Bluebell Opticom Ltd., provider of innovative fibre-optic solutions for fixed and remote applications, today introduced the TDM750, a stand-alone or rack-mounted module for transporting HD-SDI and 100BaseT Ethernet signals. The unit provides cost-effective fibre connectivity for the growing range of compact and remote HD pan/tilt cameras used in concert halls and government chambers, making it possible to forego copper cabling and increase the distance between the cameras and the control room.

"Often in historic buildings like a parliament chamber, the placement of the control room is limited by legacy factors like copper cabling, which can make for cumbersome setups in less-than-ideal locations," said Paul McCann, managing director, Bluebell Opticom. "The TDM750 uses multicore fibre, not copper, to bring feeds from any meeting room or chamber back to the central engineering room. That means cameras and engineering rooms can be placed in the locations that best suit the building and the given production, no matter the distance from the shoot, and operators can still retain full control of the cameras. This capability is a distinct advantage in older buildings or buildings with limited access."
An affordable modular interface based on Bluebell's popular and growing BC Series transport system, the TDM750 uses multicore fibre that allows the installer to transport and control a large number of remote cameras over a single cable. The interface requires only two fibres (with an option for single-fibre operation), making it perfect for smaller robotic/POV camera systems that require only a single video path and bidirectional data via Ethernet. It is available as a stand-alone link or in a 19-inch rack, from which it can connect multiple cameras from single or multiple locations. The self-contained module can also be used as a building block in larger optical networks alongside other interface requirements.
The TDM750 will be available in the third quarter of 2015.
Further information about Bluebell and the company's products is available at www.bluebell.tv.
Featured Product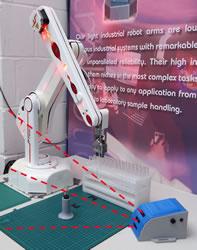 ST Robotics have decades of experience in industrial robots having sold hundreds of robots over the years. The company has 3 main models, R12, R17 and R19 all using a unique simple industrial technology that dramatically reduces costs resulting in the lowest priced industrial robots available. The same uncomplicated technology vastly improves reliability. ST backs this up with a 2 year warranty. Typical applications are routine testing, sample handling and also education. The software is a different paradigm from most robots. It is command based; you type a command and see immediate action. Programming is a building block approach, building confidence as you program in small 'mind-sized bytes'. ST offers free unlimited technical support.