The Company lacks adequate working capital, because of a default by a significant lender.
FLORHAM PARK, N.J., Aug. 19, 2015 -- Boomerang Systems, Inc. (OTCQB: BMER, the "Company"), the innovator of the revolutionary RoboticValet automated parking system, today announced that it is seeking a financial restructuring by the voluntary filing of a petition under Chapter 11 of the United States Bankruptcy Code in the United States Bankruptcy Court for the District of Delaware (the "Court"). The Company lacks adequate working capital, because of a default by a significant lender.

As part of its filings with the Court, the Company is seeking approval of post-petition financing from a group of the Company's existing senior secured note holders that have committed to finance the Company's restructuring. "Boomerang will not be discouraged by this event, and we are grateful for the strong and consistent support from our investor base. While we are obviously disappointed, our management team is highly motivated to develop and execute a plan of reorganization that will allow us to emerge in a stronger state and better able to serve our customers. We deeply regret the uncertainty and short-term impact on customers and employees," said the Company's CEO, James Gelly.
The Company has retained the services of the law firms Togut, Segal & Segal LLP and Ciardi, Ciardi & Astin to represent it in its chapter 11 case. In addition, the Company has retained the law firm Berg & Androphy, which filed a lawsuit on August 18th, 2015 in the Southern District of New York against the Company's defaulting lender.
Featured Product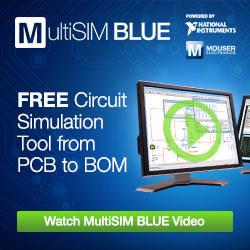 Powered by NI, MultiSIM BLUE Upgrade includes schematic capture, simulation, PCB layout, BOM-to-cart capabilities using only one tool. No more switching between different programs for circuit design. Perform MCU co-simulation. New voltage, current and power probes as well as faster active analysis mode are also available. Plus, it even comes with an expansive database of new components from industry-leading manufacturers. Discover why EDN named MultiSIM BLUE a HOT 100 Product of the Year.