Duncan, SC -- Stäubli welcomes Jim Drury to the Staubli Robotics Team.
Drury holds a B.S. degree in Electrical Engineering from J.B. Speed Scientific School. He has a diverse back ground in manufacturing sectors, technical applications and sales. Drury has fourteen years experience in automated systems as a project leader designing, specifiying and programming logical controls, HMI's, robotic systems and equipment interfacing. In addition to the extensive applications exposure, Drury's most recent ten years consisted of robotic, capital equipment and term contract supply sales.

"As part of Staubli Robotics", Drury states "I will apply my practical application and sales background to best serve our customers to form long term value-added partnerships".
As Midwest Sales Manager: Drury will be responsible for Michigan, Indiana, Ohio and Kentucky.
For additional information contact:
Jim Drury
Midwest Regional Sales Manager
Stäubli Robotics
(502)817-4247
j.drury@staubli.com
About Stäubli North America
Staubli North American headquarters is located in Duncan, SC and has over 200 employees supporting Textiles, Connectors and Robotics customers. The sales force is strategically placed on the West Coast, Canada, Mexico and elsewhere thoughtout the continent.
Visit www.staubli.us for more information on the company and products.
Featured Product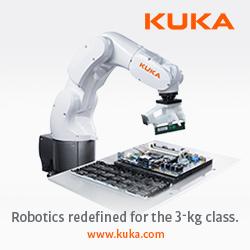 Great advances often start with small steps - in manufacturing cells measuring only 600 × 600 mm. Here, the KR 3 AGILUS is in its element. Particularly in the case of small parts and products which must be produced in a minimum of space. KUKA expertise, concentrated into the smallest of spaces, is setting new standards for the 3-kg class. The lightweight robot masters various tasks with agility, dynamism and maximum precision, leading to high flexibility in production - even when it comes to extremely narrow spaces.