CNC machining company, Protomatic, was recognized as one of 4 "Top Shops" by Modern Machine Shop magazine.
Dexter, MI August 27, 2015

Precision CNC machining company, Protomatic, was recognized by Modern Machine Shop magazine with the Top Shops Honors Program award.
Modern Machine Shop evaluated 277 shops this year. Protomatic won the Best Shopfloor Practices category for its attention to spindle utilization, overall equipment effectiveness, setup time, use of machine-tending robots and other forms of automation, and lean manufacturing processes.
Protomatic is based in Dexter, Michigan, with areas of expertise including prototype machining and custom short-run precision CNC milling and turning.
Industries served by Protomatic include medical, aerospace, automotive and military. Protomatic puts an emphasis on "Life-Saving Precision" from product design through production.
Featured Product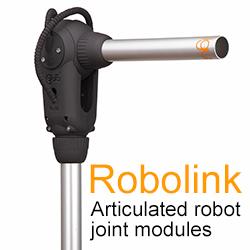 Robolink: Articulated joint modules for robots. igus® now offers a lightweight, maintenance- and corrosion-free range of robot joints for humanoid systems or other automated applications. The carbon-fiber plastic joints can rotate and oscillate freely via four wire ropes. No more expensive milling, cutting or DIY systems. Moving mass is reduced to a minimum. The actuators (engines, pneumatics and hydraulics) and the control module (DP, PC) are kept separate. Contact igus® for more information and free samples.