Nachi Robotic Systems Inc. is proud to announce that the MZ Robot Series is now Clean Room Compliant to ISO 14644-1 Class 4. The ISO rating allows the Nachi MZ03EL, MZ04, MZ04E, MZ07, MZ07P, MZ07L, and MZ07LP to be used in clean room environments for critical manufacturing processes such as pharmaceutical, electronics, biotechnology, and defense. A cleanroom or clean room is an environment, typically used in manufacturing or scientific research, with a low level of environmental pollutants such as dust, airborne microbes, aerosol particles, and chemical vapors.

More accurately, a cleanroom has a controlled level of contamination that is specified by the number of particles per cubic meter at a specified particle size. To give perspective, the ambient air outside in a typical urban environment contains 35,000,000 particles per cubic meter in the size range 0.5 μm and larger in diameter, corresponding to an ISO 9 cleanroom, while an ISO 1 cleanroom allows no particles in that size range and only 12 particles per cubic meter of 0.3 μm and smaller.
Featured Product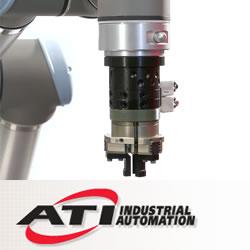 The ATI Robotic Tool Changer provides the flexibility to automatically change end-effectors or other peripheral tooling. These tool changers are designed to function reliably for millions of cycles at rated load while maintaining extremely high repeatability. For this reason, the ATI Tool Changer has become the number-one tool changer of choice around the world. ATI Tool Changer models cover a wide range of applications, from very small payloads to heavy payload applications requiring significantly large moment capacity.