"Large-format 3D printing will offer many exciting opportunities for CHGT to grow and expand into new, untapped markets"
HOUSTON--Changing Technologies, Inc. (OTCBB: CHGT) is examining entering the large-format 3D printing market - a move that would enable the company to expand its growing array of printing offerings and start a promising new revenue stream.

Large-format 3D printing involves much bigger pieces than currently produced in most 3D printing operations. It includes items ranging from life-size mannequins all the way to pedestrian bridges and housing units, motorcycles and even jet engines. CHGT would concentrate on furniture and architectural models for its proposed large-format offering.
"Large-format 3D printing will offer many exciting opportunities for CHGT to grow and expand into new, untapped markets," said CEO Marco Valenzuela. "It's the next step in what many are calling the Third Industrial Revolution and we intend to be a leader in utilizing this game-changing technology. By adding large-format printing to our portfolio, customers will know CHGT can provide innovative, knowledgeable solutions to their 3D needs. The revenue possibilities are tremendous."
3D printing continues to become ever more important in American business. Currently, 75 percent of large companies have adopted 3D printing and 59 percent of smaller companies are using it. The market is growing so fast, analysts have had difficulty projecting future revenues, with estimates ranging from $8.6 billion to $21 billion by 2020.
For more information on CHGT, please visit www.changingtechno.com.
For more information on 6th Dimension Technologies, please visit http://www.6d3d.com.
About Changing Technologies, Inc.
Changing Technologies, Inc. (CHGT) is an emerging technology company focused on developing innovative concepts to bring to consumers. It recently created a new subsidiary — 6th Dimension Technologies — to pursue additional growth areas and market needs in the booming 3D printing sector. A forward-thinking company working to be at the forefront of the next generation of consumer-based technology, CHGT is positioning itself to leverage global demand for the latest technological advances and services the company offers. Changing Technologies, Inc. is in the cutting-edge technology sphere alongside companies like Voxelijet AG (VJET), Arcam AB (AMAVF), and ExOne Co. (XONE).
Featured Product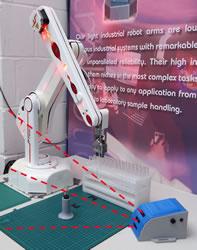 ST Robotics have decades of experience in industrial robots having sold hundreds of robots over the years. The company has 3 main models, R12, R17 and R19 all using a unique simple industrial technology that dramatically reduces costs resulting in the lowest priced industrial robots available. The same uncomplicated technology vastly improves reliability. ST backs this up with a 2 year warranty. Typical applications are routine testing, sample handling and also education. The software is a different paradigm from most robots. It is command based; you type a command and see immediate action. Programming is a building block approach, building confidence as you program in small 'mind-sized bytes'. ST offers free unlimited technical support.