QRP took possession of a high precision Concept Laser metal 3D printer
West Jordan, Utah September 03, 2015

Qualified Rapid Products (QRP), the Intermountain West's first 3D metal printed parts supplier, announced the acquisition of a Concept Laser 3D metal printer. QRP provides comprehensive engineering services specializing in metal additive manufacturing—focusing on turn-key delivery of high-precision, low-volume functional parts.
"Many companies are looking to 3D metal printing to replace the status quo because lead times are so much shorter and geometric flexibility is opened up," said QRP CEO Rob Smith. "We are innovative application specialists that help bridge the gap between established companies and new technology."
Although 3D metal printing is not new, a local supplier of 3D printed metal parts and engineering has been unavailable until now. Located in West Jordan, QRPs services eliminate tooling and design costs for the first stages of product development. They can also reduce production costs by replacing exotic materials with advanced geometry. "Companies can have their problems solved as we consult, design, and print product-quality parts," Smith continued.
QRP provides quick-turnaround metal parts for mechanical engineers who need a product that has been qualified, is shape/weight optimized, and/or is a low-cost functional iteration.
Featured Product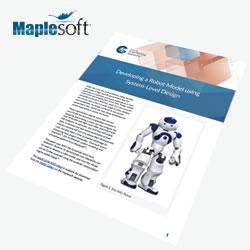 This paper uses NAO, the humanoid robot from Aldebaran Systems, to demonstrate how MapleSim can be used to develop a robot model, and how the model can be further analyzed using the symbolic computation engine within Maple.