Leading members of the Judiciary Committee have remarked on the potential societal benefits of this game-changing new technology.
Arlington, Va., September 10, 2015 - Today, House Judiciary Committee members will review the policy implications of Unmanned Aerial Vehicles (UAS). Commercial drones offer an incredible and ever-increasing array of beneficial applications.

"Whether it is services such as the delivery of medicines to remote locations or improving agricultural crop yields, drones have the potential to improve the lives of all Americans," said Gary Shapiro, CEO and president, Consumer Electronics Association. "But as with all great technological advances, we must examine how to reap the societal benefits while mitigating potential challenges. We appreciate the committee's focus on safeguarding privacy and public safety in an environment of increased drone use, and look forward to working with Members of Congress on addressing the legitimate safety and privacy concerns associated with drone use."
Additionally, leading members of the Judiciary Committee have remarked on the potential societal benefits of this game-changing new technology.
"As commercial drone use becomes more affordable and accessible, the marketplace is finding new, innovative ways to apply drone use to both emerging and traditional industry needs," said Subcommittee on Courts, Intellectual Property, and the Internet Chairman Darrell Issa (R-CA). "These applications hold the potential to change how we receive Internet service, various goods, and even how we monitor and access remote places of the world or disaster areas. At the same time, an expanded use of UAV technology requires that the public and private sectors work together to ensure consumers' safety and privacy are fully protected."
"Drone technology has the potential to unleash a wave of innovation across numerous industries," said Ranking Member of Subcommittee on Courts, Intellectual Property and the Internet Rep. Jerrold Nadler (D-NY). "For example, real estate agents can provide aerial views of prospective properties; insurance adjusters can quickly survey flood damage over a wide area; companies like Amazon hope to deliver packages by air within 30 minutes; and photographers and film directors can take footage of their subjects from unique angles. Meanwhile, entrepreneurs are launching companies that offer drone services for hire, or act as brokers between drone operators and businesses that need their services. The possibilities for innovation are almost endless."
Economic research from CEA says the United States will reach one million UAS flights per day within the next 20 years, given the right regulatory environment. CEA also supports the UAS safety campaign "Know Before You Fly," which provides prospective UAS operators with the information and guidance they need to fly safely and responsibly.
Featured Product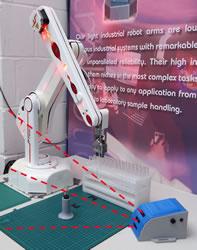 ST Robotics have decades of experience in industrial robots having sold hundreds of robots over the years. The company has 3 main models, R12, R17 and R19 all using a unique simple industrial technology that dramatically reduces costs resulting in the lowest priced industrial robots available. The same uncomplicated technology vastly improves reliability. ST backs this up with a 2 year warranty. Typical applications are routine testing, sample handling and also education. The software is a different paradigm from most robots. It is command based; you type a command and see immediate action. Programming is a building block approach, building confidence as you program in small 'mind-sized bytes'. ST offers free unlimited technical support.