The GP 6 S spindle gear is suitable for a wide variety of linear drive solutions.
The maxon GP 6 S spindle gear

The GP 6 S micro spindle gear has a diameter of six millimeters and is now also available in a metal version to provide a spindle drive with optimized value.
Spindle drives are the perfect solution for linear positioning systems, lens adjustment, or syringe pumps. If the drive also has to be compact, then maxon motor's GP 6 S spindle gear is the perfect choice. To provide a cost-effective alternative to the ceramic version, it is now also available with a metal spindle.
Combinations with maxon DC motors
The GP 6 S spindle gear is suitable for a wide variety of linear drive solutions. The maximum feed velocity is 15 mm/s, at a force of 10 N. Integrated ball bearings ensure that this drive stands up to high axial loads. The gear easily combines with the maxon DC brushed motor (RE 6) and DC brushless motor (EC 6).
More data and details about the new metal version of the GP 6 S spindle gear are available online at Maxon's website.
Featured Product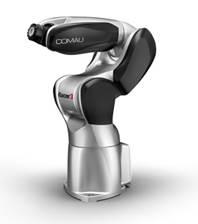 Racer3 is a powerful, high-speed, 6-axis articulated robot featuring a payload of 3kg and a reach of just 630 mm. Built from high-strength aluminum, the newest innovation in Comau robotics is lightweight and can be easily mounted on benches, walls, ceilings or on inclined supports. The third robot within the award-winning Racer family, Racer3 is Comau's response to the growing demand for fast, cost-effective robotic automation within small to medium-sized enterprises and emerging countries. Racer3 is intended for general industry use to increase productivity and reduce overall costs by automating industrial applications. It combines field-proven technology and enhanced dexterity with a keen focus on safety, design and product aesthetics. With a streamlined design and brushed metal exterior, the new powerhouse of a robot combines beauty and speed together with absolute precision and repeatability. Primary applications include assembly, material handling, machine tending, dispensing and pick & place.