Pixus Technologies, a supplier of backplane, chassis, and embedded component solutions, has released an open frame chassis platform for OpenVPX backplanes.
Waterloo, Ontario — July 28, 2015 - Pixus Technologies, a supplier of backplane, chassis, and embedded component solutions, has released an open frame chassis platform for OpenVPX backplanes. Other standard backplane architectures can also be utilized in the enclosure.

The versatile VPXD0800 offers up to 8 OpenVPX slots in a 1.0" pitch. The modular card guides can be spaced in any 0.2" increments allowing various slot pitches to be utilized. There is also an option for conduction-cooled module card guides.
Pixus provides VPX backplanes in several slot sizes and configurations with the VPXD0800. The company also offers custom backplane designs, even in lower quantities. The VPXD0800 has AC or DC PSU options up to 900W and includes a convenient carry handle. Low cost PSUs designed to VITA 62 for VPX systems are also available.
Leveraging Rittal's sleek European quality mechanical designs, Pixus is able to offer time-tested designs that are built in one of the largest manufacturing centers for electronics packaging in the world. With Pixus' subsystem integration expertise, the result is the premier value in the industry for electronics enclosure systems.
Pixus offers backplane designs and chassis platforms in OpenVPX, CompactPCI, AdvancedTCA, MicroTCA, and custom architectures. The company also has ejector handles/ panels geared for OpenVPX systems. A version of the VPXD0800 for 3U sized boards is currently in design.
About Pixus Technologies
Leveraging over 20 years of innovative standard products, the Pixus team is comprised of industry experts in electronics packaging. Founded in 2009 by senior management from Kaparel Corporation, a Rittal company, Pixus Technologies' embedded backplanes and systems are focused primarily on ATCA, OpenVPX, MicroTCA, and custom designs. Pixus also has an extensive offering of VME-based and cPCI-based solutions. In May 2011, Pixus Technologies became the sole authorized North and South American supplier of the electronic packaging products previously offered by Kaparel Corporation and Rittal.
Featured Product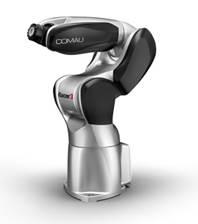 Racer3 is a powerful, high-speed, 6-axis articulated robot featuring a payload of 3kg and a reach of just 630 mm. Built from high-strength aluminum, the newest innovation in Comau robotics is lightweight and can be easily mounted on benches, walls, ceilings or on inclined supports. The third robot within the award-winning Racer family, Racer3 is Comau's response to the growing demand for fast, cost-effective robotic automation within small to medium-sized enterprises and emerging countries. Racer3 is intended for general industry use to increase productivity and reduce overall costs by automating industrial applications. It combines field-proven technology and enhanced dexterity with a keen focus on safety, design and product aesthetics. With a streamlined design and brushed metal exterior, the new powerhouse of a robot combines beauty and speed together with absolute precision and repeatability. Primary applications include assembly, material handling, machine tending, dispensing and pick & place.