The SCHUNK PGN-plus Permanent has been seamlessly integrated into the PGN-plus family.
SCHUNK is raising the bar with the new PGN-plus Permanent gripper! The complete contour of the patented multi-tooth guidance is equipped with grease pockets, which ensures a continuous and more even distribution of lubricant, even with short strokes. This increases the already great life span of the gripper, and makes it practically maintenance-free. It reduces operating costs and ensures excellent repeat accuracy of 0.01 mm. The gripper is equipped with an oval piston drive, ensuring high forces in confined spaces.

The PGN-plus family has been successfully used in applications with high temperatures, contaminants, and aggressive media, as well as in clean rooms and explosive environments. On request, the modules are available with spring assist for mechanical gripping force maintenance, combined with compensation units for compensating angle errors, with force intensifier, or as a special precision version.
The SCHUNK PGN-plus Permanent has been seamlessly integrated into the PGN-plus family. A whole range of automated applications can be reliably implemented with the universal gripper. Many industries will benefit from this gripper; machine/system loading in the metal cutting industry, in foundries, assembly applications in the automotive and electrical industry, and to delicate handling tasks in the medical and pharmaceutical industry.
SCHUNK underlines the extraordinary performance of this universal gripper with a unique extended warranty, which is second to none on the market. The PGN-plus Permanent is available in the unit sizes 50 to 125. An expansion of the existing PGN-plus series is planned.
Featured Product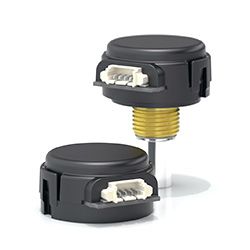 US Digital is pleased to announce the launch of the E4T, their latest series of miniature high performance optical encoders. The E4T series delivers a marked performance increase over similar encoder models and designed to be an enhanced replacement for the E4P encoder series. The E4T utilizes state of the art transmissive optical sensing technology, and incorporates US Digital's own proprietary OptoASIC. Assembly of the E4T is simple and efficient and retains the previous E4P's form factor. Key features of the new E4T include: • Mechanically and Electrically Interchangeable with E4P • Improved Quadrature Signal Strength • 100 kHz Frequency Response • Transmissive Optical Design • Collet Style Push on Optical Disk Design (Patent Pending) • Simple & Efficient Assembly Process As with all of our products the E4T is designed and manufactured in their Vancouver, Washington USA facility and is available for purchase as of December 2014.