As sponsor of PMMI exhibitor, hospitality lounges and golf tournament, Lenze supports packaging industry and showcases motion control solutions
Uxbridge, MA - September 18, 2015 - Lenze Americas, a global manufacturer of electrical and mechanical drives, motion control and automation technology, will sponsor the PMMI member and exhibitor lounges at PACK EXPO Las Vegas 2015 exhibition and conference being held September 28-30 at the Las Vegas Convention Center. PACK EXPO Las Vegas features over 1,800 exhibitors and attracts tens of thousands of processing and packaging professionals.

"PACK EXPO has evolved into one of the largest shows of the year for the packaging industry," said Susan Duval, marketing manager, Lenze. "Automation, robotics and new software developments will undoubtedly play major roles in the future of the industry. As a trusted global supplier of integrated drive solutions, Lenze looks forward to meeting with valued colleagues and customers in Las Vegas!"
Lenze is also an official sponsor of the PMMI Golf Tournament scheduled prior to the PACK EXPO Las Vegas show opening on Sunday, September 27 at the Bali Hai Golf Club. Proceeds from the golf tournament will benefit the PMMI Education & Training Foundation. A trade association representing more than 700 companies, PMMI will host the two member lounges located in rooms N114 and S111, where exhibitor booth personnel and their guests may conduct business, network and relax.
PACK EXPO Las Vegas 2015 PMMI member and exhibitor lounges will be open the following hours:
Member Lounges, rooms N-101 and S-221 open 8:00am-4:00pm daily during show days
Exhibitor Lounges, rooms N-114 and S-111 open 7:00am-4:00pm daily during show days
Exhibitor Lounges rooms N-114 and S-111 open 8:00am-noon Sept 26-27, Oct 1-2
"We are excited to again be a part of this important event and have the opportunity to showcase the latest motion control technologies for packaging line operations," adds Duval.
To learn more, please visit Lenze booth #S-6033 and attend the presentation "Innovation for EASY Packaging Machine Automation" on the PACK EXPO Las Vegas Innovation Stage at 11:00am on Wednesday, September 30.
About Lenze Americas
Lenze is a global manufacturer of electrical and mechanical drives, motion control and automation technology. As a global specialist in Motion Centric Automation, we offer our customers products, drive solutions, complete automation systems, engineering services and tools from a single source. We are a leading provider of automation solutions to the packaging industry, and our other focus industries include automotive, material handling and logistics, robotics, and commercial pumps/fans. With a global network of engineers, sales representatives, and manufacturing facilities, Lenze is well-positioned to meet the motion control needs of customers worldwide. Lenze, the American subsidiary of Lenze SE of Germany, is headquartered in Uxbridge, Massachusetts, with an assembly and logistics center in Glendale Heights, Illinois. Corporate global headquarters are in Hamelin, Germany. Visit www.Lenze.com for more information.
Featured Product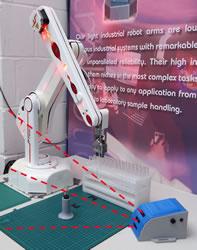 ST Robotics have decades of experience in industrial robots having sold hundreds of robots over the years. The company has 3 main models, R12, R17 and R19 all using a unique simple industrial technology that dramatically reduces costs resulting in the lowest priced industrial robots available. The same uncomplicated technology vastly improves reliability. ST backs this up with a 2 year warranty. Typical applications are routine testing, sample handling and also education. The software is a different paradigm from most robots. It is command based; you type a command and see immediate action. Programming is a building block approach, building confidence as you program in small 'mind-sized bytes'. ST offers free unlimited technical support.