Shuttleworth engineered two comprehensive, modular active demonstrations that showcase a wide range of conveying solutions for every shape, size, and composition of products from cartons and cases to delicate baked goods (Shuttleworth Pack Expo Booth C-3623)
Huntington, Ind. September 18, 2015

Shuttleworth, powered by Pro Mach, features at Pack Expo Las Vegas 2015, September 28-30, two conveying demonstrations that will save a great deal of time for show attendees looking for state-of-the-art solutions for their product handling needs. These two exhibits incorporate an extensive range of automated product handling solutions - from delicate foods to virtually any type of package goods and packaging. (Shuttleworth Pack Expo Booth C-3623)
The Shuttleworth servo loop demonstration incorporates fully automated in-feeding, vision-based rejection, combining, and dividing of products. Rejected products are routed out from the conveyor, looped around, and then automatically and seamlessly incorporated back into the flow via a fully integrated Modu conveyor. Shuttleworth will also display on the servo loop conveyor the new ProTech by Pro Mach™ remote monitoring and remote service technology being introduced at Pack Expo 2015.
For delicate products, such as baked goods conveying, Shuttleworth engineered the bakery loop. This loop integrates a stainless V-Clean Slip-Torque conveyor with a KLEENLine lane switch module. The lane switch is a stainless steel sanitary washdown construction plaque divider that diverts products from a single lane into two, three, or four lanes for routing to wrappers, case packers, cartoners, and palletizers. Designed and built at KLEENLine, a Pro Mach business, the lane switch integrates flawlessly with Shuttleworth's stainless V-Clean Slip-Torque conveyor. This combo features gentle product transfers and no side contact, diverting at speeds ranging from 220 feet per minute (FPM) to 400 FPM.
In this loop demonstration a single lane of products is automatically separated into multiple lanes, then accumulated, and lastly formed back into a single lane before being separated again. The conveyor showcases a small footprint modular design. It also features a wide range of different rollers and roller surfaces - food grade, star roller for loose leaf paper, high heat urethane rollers, and more options that reveal the range of surfaces and applications available from Shuttleworth.
For more information on Shuttleworth's state-of-the-art material handling solutions, call 800-444-7412 and visit http://www.Shuttleworth.com. Be sure to visit the Shuttleworth Booth C-3623 at Pack Expo for a one-stop-shop of the latest in automated conveying solutions.
About Shuttleworth
Since 1962, Shuttleworth has served as a leading designer, consultant, and manufacturer of solutions to solve material handling challenges. Whether a customer needs a conveyor system that will accumulate, flip, stack, rotate, push, divert, or index products between manufacturing or packaging processes, Shuttleworth can design and build it. Year after year, the company continues to revolutionize the packaging industry with Slip-Torque® technology and conveyor system and equipment innovations that are as unique as each customer's product line. Shuttleworth is headquartered in Huntington, Ind., operates a manufacturing facility near Gent, Belgium, and maintains a sales and engineering office in Kuala Lumpur, Malaysia. http://www.Shuttleworth.com.
About Pro Mach
Pro Mach is a leading provider of integrated packaging and processing products and solutions for food, beverage, consumer goods, pharmaceutical, and other diverse companies. Through its brands, Pro Mach provides product packaging and processing equipment, PMMI certified training, installation, parts, and service in Bottling & Capping, Primary Packaging, Flexible Packaging, Material Handling, Labeling & Coding, and End of Line.
Pro Mach has a diverse customer base, from Fortune 500 companies to smaller, privately-held businesses worldwide, which depend on reliable, flexible, technologically advanced equipment and integrated solutions. Pro Mach is headquartered near Cincinnati, Ohio, with manufacturing facilities and offices throughout the United States, Canada, Mexico, and Europe. For more information about Pro Mach, visit http://www.ProMachInc.com.
Featured Product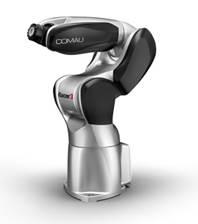 Racer3 is a powerful, high-speed, 6-axis articulated robot featuring a payload of 3kg and a reach of just 630 mm. Built from high-strength aluminum, the newest innovation in Comau robotics is lightweight and can be easily mounted on benches, walls, ceilings or on inclined supports. The third robot within the award-winning Racer family, Racer3 is Comau's response to the growing demand for fast, cost-effective robotic automation within small to medium-sized enterprises and emerging countries. Racer3 is intended for general industry use to increase productivity and reduce overall costs by automating industrial applications. It combines field-proven technology and enhanced dexterity with a keen focus on safety, design and product aesthetics. With a streamlined design and brushed metal exterior, the new powerhouse of a robot combines beauty and speed together with absolute precision and repeatability. Primary applications include assembly, material handling, machine tending, dispensing and pick & place.