Turbine Technologies, Ltd. has developed a unique new device called FluidMechatronix. It greatly enhances the state-of-the-art in automated manufacturing training, or mechatronics and is ideally suited for training applications in industry, technical education and engineering programs.
Chetek, Wisconsin -- September 23, 2015

U.S. manufacturing competitiveness is largely driven by advanced automation. Product quality, time-to-market and cost are significantly enhanced by modern devices and software. Robots, variable frequency drives, process-automation-controllers and computers are just a few of the devices that work together in advanced manufacturing fields that include oil refineries, automotive plants and food packaging.
"Hundreds of thousands of manufacturing jobs exist that employers can't seem to fill." -Mike Rowe, American television host and narrator
Wisconsin based Turbine Technologies, Ltd. recognizes the large demand for skilled technicians and engineers by developing and manufacturing unique training devices. These turnkey systems teach students about energy and automation.
"We're introducing a brand-new, one-of-a-kind process automation trainer that vastly improves current market offerings", says Perry Kuznar, Principal Applications Engineer at Turbine Technologies. "FluidMechatronix™ is a state-of-the-art teaching system. It's the only trainer of its kind to combine automation with a clear-view pumping circuit- allowing students to see into the machine, while operating!"
Utilizing water as the working fluid, along with interchangeable pump impellers, students are provided skills-based training in:
* Centrifugal pumps: Including data mapping and development of characteristic performance curves, along with viewing often discussed, but never seen flow cavitation
Control loops that include:
Tank levels
Temperature
Mixing
Pressure
Suction
Flow
* Programmable Automation Controller (PAC/PLC) Programming: Featuring onboard Rockwell Automation Studio 5000 ladder logic with PIDE Autotune, alarms, lock-out tag-out, etc.
* Human Machine Interface Programming (HMI): Large format touch screen with pre-installed Rockwell Automation FactoryTalk ViewME v8.0
* Variable Frequency Drives (VFD): Operation & control
Ethernet communications: Set-up & networking over local area networks (LAN) & internet (subnets, IP address Classification, etc.)
Mr. Kuznar went on to say: "Our industry and educational advisory committee helped us develop a complete curriculum series that focuses on critical skills-based topics and our in-house design team really put an exciting spin on those topics. We're extremely eager to start shipping the new FluidMechatronix™ trainer. The product is packaged so well and uses state of the art industrial hardware and software to accurately replicate an automated manufacturing environment."
Featured Product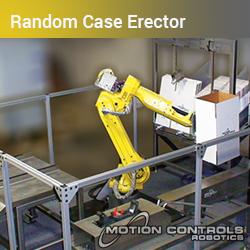 Random Case Erectors are ideal for fulfillment centers and other end-of-line packaging needs. Save money by eliminating changeover downtime. Reduce ergonomic injuries by eliminating repetitive manual tasks. The Random Robotic Case Erector System includes: • FANUC M20iA/20 Robot • Combi gravity case magazine - holds 2 box sizes • Combi bottom flap folder with integrated 3M case sealing head. • Fixed robot base, anchored to the floor • Flexible end of arm tool to pick and erect multiple case sizes to eliminate changeover downtime • System wiring and controls • Color 7.5" touchscreen HMI display for selecting case size • Perimeter guarding with safety interlocks on doors • Programming for Robot, PLC/PMC, HMI and Vision • Complete documentation in electronic format • On-site training and support • Compliance with all applicable robotic safety standards. Alternate safety configuration may be available to allow an operator to changeover a case size in one magazine while the robot continues to work in other magazines. Contact Motion Controls Robotics to learn more about how to implement this system into your current end-of-line operations.