First stop: The Docks de Paris, where the upcoming edition will take place on 24, 25 and 26 May 2016 in the French capital.
LYON, France--The leading summit on global robotics is unveiling a new organization, setting out on a tour of Europe in order to get even closer to key players in the sector. First stop: The Docks de Paris, where the upcoming edition will take place on 24, 25 and 26 May 2016 in the French capital.

Innorobo, Europe's leading event dedicated entirely to the robotics sector and its innovations, has created a unique robotics ecosystem to speed up the time-to-market of innovations and technologies that provide solutions for the major challenges our world is facing. Since 2011, Innorobo brings together robotics companies from around the world alongside research laboratories, start-ups, inventors, public and private funding providers, institutional players, strategy and innovation decision makers from major international groups and SMEs and the media. Innorobo - A Human Robotics Event.
For its 6th edition, Innorobo is taking on a new dimension. In 2016, for the first time ever, the show will open its doors in Paris for a three-day panorama showcasing the state of the art of robotics technologies from around the world, with a larger exhibition hall, conferences featuring renowned specialists in the field and a number of workshops and demonstration areas.
Unlike sector-specific events (catering to industrial automation, smart regions, smarts homes, transportation, etc.), Innorobo showcases robotics technologies to a wide range of industries, thus promoting cross-innovation and providing players in a number of sectors with new opportunities for growth and diversification. Like the Internet, robotics technologies are nearly boundless, helping to shape innovation throughout society as a whole. Innorobo brings together all of these sectors in 6 core themes rolled out for the 2015 edition: Smart Cities; Technologies & Foresight; Medical & Health; Factories of the Future; Smart Homes; Field Robotics.
New destinations that reflect the event's positioning
By taking the exhibition on a road trip throughout Europe starting in 2016, Innoecho, the impact consultancy firm that organizes the Innorobo event, aims to align the event's ambitions - to be Europe's premier forum for global robotics innovations - with local specificities and the needs of key players in the robotics sphere.
Featured Product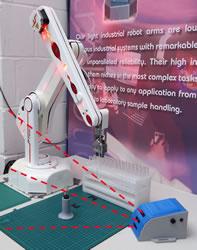 ST Robotics have decades of experience in industrial robots having sold hundreds of robots over the years. The company has 3 main models, R12, R17 and R19 all using a unique simple industrial technology that dramatically reduces costs resulting in the lowest priced industrial robots available. The same uncomplicated technology vastly improves reliability. ST backs this up with a 2 year warranty. Typical applications are routine testing, sample handling and also education. The software is a different paradigm from most robots. It is command based; you type a command and see immediate action. Programming is a building block approach, building confidence as you program in small 'mind-sized bytes'. ST offers free unlimited technical support.